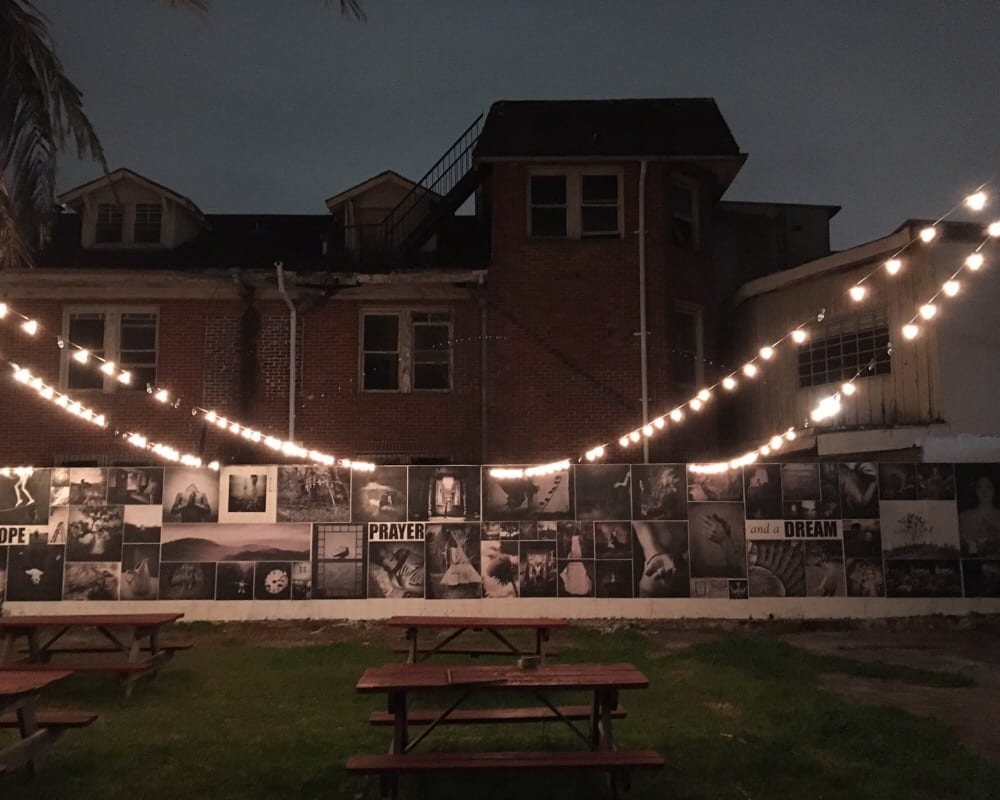 It began with a dream – an idea yet to come true. Laura Corley Burlton and Marti Corn, both residents of Houston, had a great big wall in mind, a wall in need of photographic artworks. Lots and lots of photographs. They approached the folks at FotoFest with the idea. They would call for, jury and organize a selection of photographs to be wheat-pasted on the wall, creating a mural eighty-three feet long by seven feet tall in conjunction with Houston's 2016 biennial FotoFest.
Not a small undertaking.
According to Burlton and Corn, "The theme, 'A Hope, Prayer, and a Dream,' was derived from the desire to reflect our emotions revolving around the unrest and chaos that is raging throughout the world today."
The idea was accepted and the call sent to their fellow-artists in shootapalooza, a collective of photographic art anarchists. Before the call was complete however, Burlton and Corn learned that they were to wheat-paste not just the one big wall, but also another on the block, twenty-three feet by seven.
All in all, sixty shootapalooza artists contributed one hundred thirty-one images. Marti, professional graphic designer by day, created the layouts.
The official wheat-pasting day was set for Saturday, February 13. Twenty-one artists from eight states and Mexico turned out to slather the walls with wallpaper paste and hang photographs.
There will be an opening reception Thursday, March 3, at 5:00 at the Mid-Main soon-to-be beer garden located on the 3600 block of Main Street in Houston. Five percent of sales from the local businesses during the reception will benefit the Houston Center for Photography. Local artists will be on hand to display and sell their works.
In addition to the two wheat-pasted walls, ghe exhibit includes storefront windows filled with cyanotype prayer flags and other installations including the works of Corley-Burlton and Corn, as well as the world's largest cyanotype, created in September by the artists of shootapalooza and their friends in Johnson City, Texas.
This installation is hosted by Main Street Projects, an alternative art venue for site-specific art installations in Mid Main Houston.
This exhibit will be on display throughout FotoFest and will remain on display through the end of April 2016.
This news just in, post-deadline – "A Hope, Prayer, and a Dream," the 131-photograph wheat-pasted wall exhibition, will be featured as the party-stop on the March 25 FotoFest bus tour.
Participating photographers are listed below. To learn more about these artists, please visit their sites by clicking on their names.
Patricia Delker
Theresa Escobedo
Aubrey Guthrie
Angela Johnson
Lynda Martin
Nancy Smith
Shari Rohde Trennert
Lucy Wainwright
DB Waltrip
Sean Yseult
---
Judy Sherrod and her dog, B, wander a lot.
Judy is part of a group of rambunctious artists called shootapalooza.
shootapalooza is built upon the concept,
"We have to get better at helping each other." So that's what we do.
shootapalooza also creates art that benefits its communities.
shootapalooza also promotes art that benefits other humans.
More on that later.
shootapalooza.com
worldcyanotypeday.com
JFSherrod@aol.com
All author posts