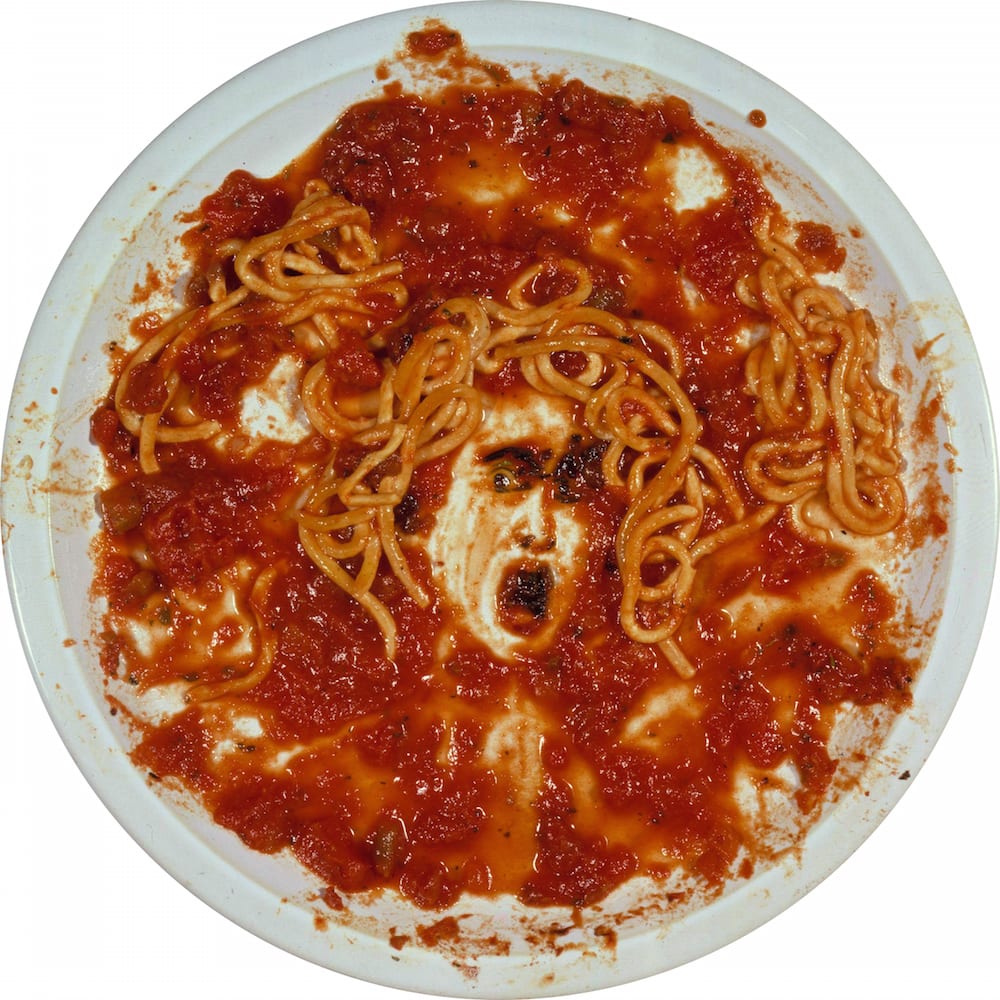 Through August 21st the High Museum, Atlanta, will host a major mid-career retrospective of the work of Vik Muniz. Brett Abbott, Keough Family Curator of Photography and Head of Collections for the High sat down with us to answer a few of our questions about the exhibition.
Nancy McCrary: If I were not familiar with Vik Muniz what would you tell me about him and his work? 
Brett Abbott: You honestly don't need to know a thing about Vik Muniz to fall in love with his work. The beauty of his approach is that it is simultaneously accessible and deeply sophisticated and speaks to a wide range of people, young and old, art aficionados and novices.  But if I were to summarize, I would note that he is a Brazilian American photographer who is distinguished as one of the most innovative and creative artists of our time.  Endlessly playful and inventive in his approach, he is known for harnessing a remarkable virtuosity in creating his renowned "photographic delusions." Working with a dizzying array of unconventional materials—including sugar, tomato sauce, diamonds, magazine clippings, chocolate syrup, dust and junk—he painstakingly builds tableaux before recording them with his camera.  His work often quotes iconic images from popular culture and the history of art, drawing on our sense of collective memory. And his more recent series utilize electron microscopes and microorganisms to explore issues of scale and unveil both the familiar and the strange in spaces that are typically inaccessible to the human eye.  Our major mid-career retrospective canvasses more than 25 years of Muniz's work to transform the ordinary into the extraordinary.  It is a wonderful demonstration of the power of art to surprise, delight, and enhance perceptions of the world.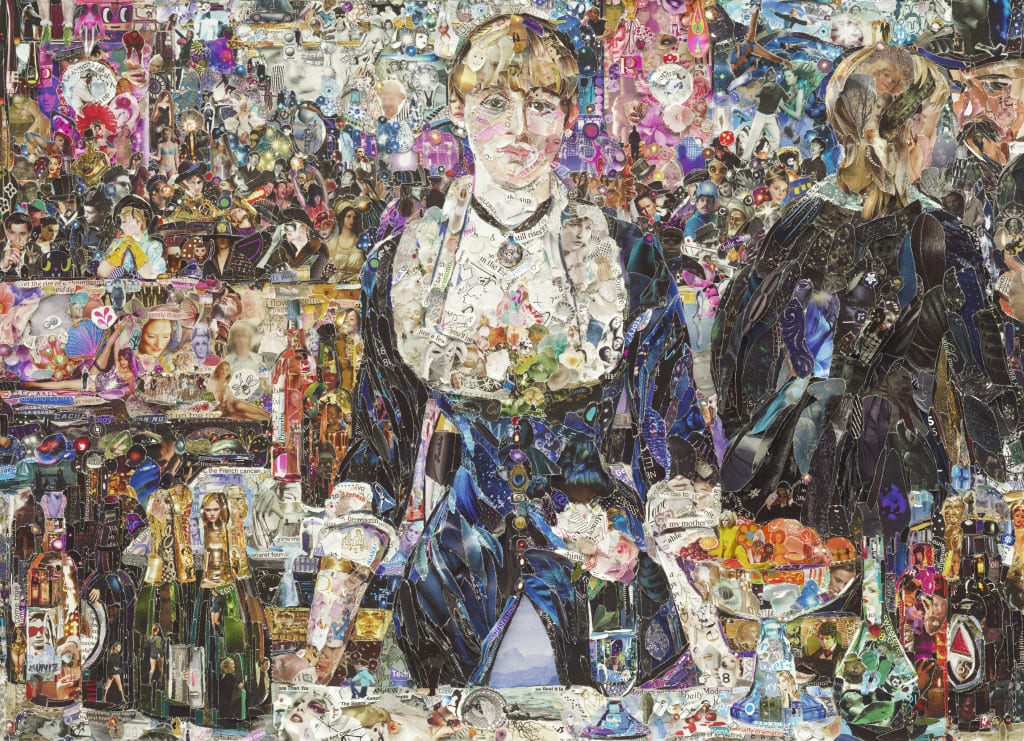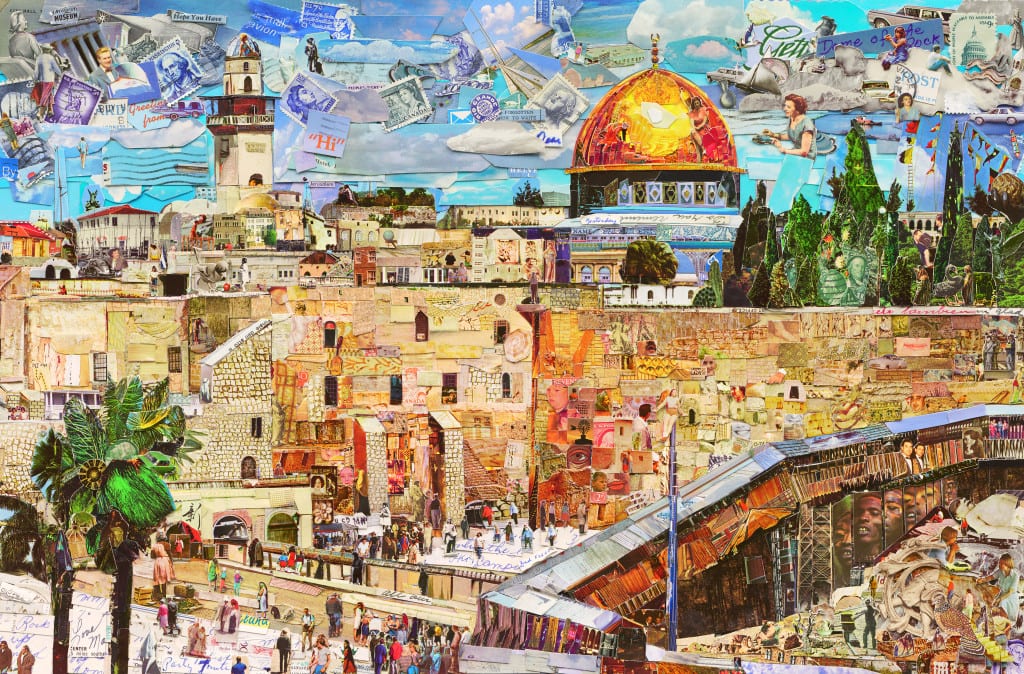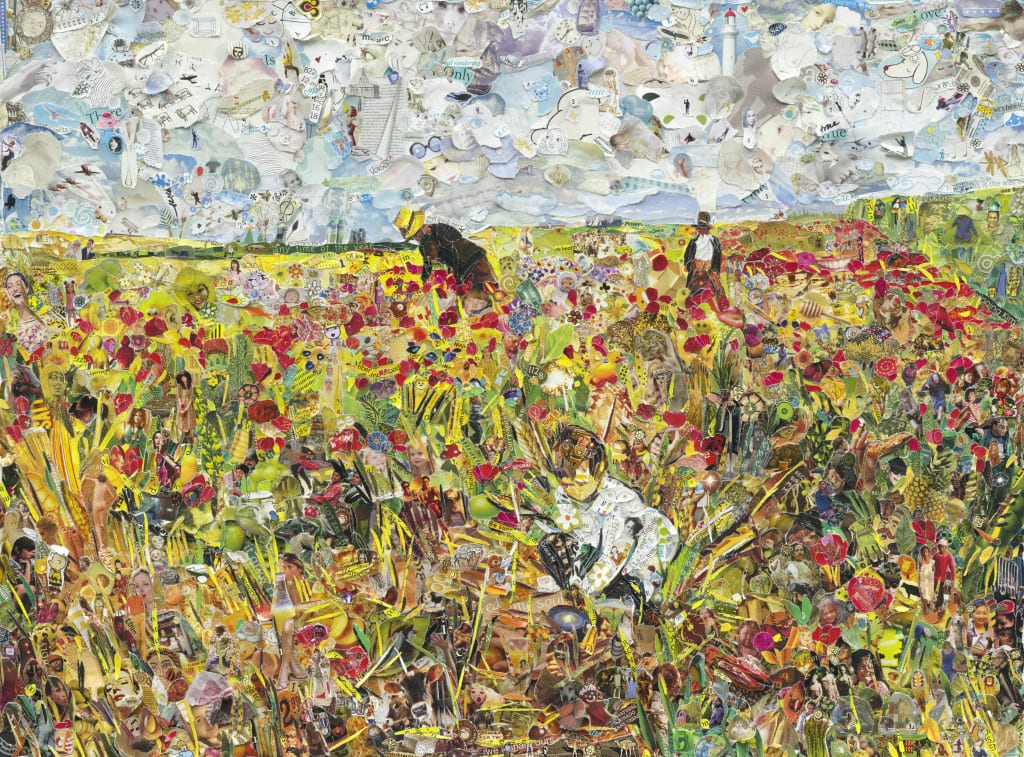 NM: Illusion and illustration come to mind when viewing his work – two words that are similar but also considered opposite in meaning? Do you see his work as one, or both? 
BA: Both are in some ways relevant to his work, but I would probably use the terms unbridled creativity and transformation to describe his approach.  From a distance, the subject of each of his compositions is discernible; up close, the work reveals a complex and surprising matrix through which it was assembled. That revelatory moment when one thing transforms into another (for example when a pile of junk transforms into the image of a man, and then devolves back into a heap of discarded objects) is of deep interest to the artist.
NM: Brazilians were going through a period of intellectual persecution when Muniz was growing up in the 1970's. What can you tell us about the affect this had on his work?
BA: He has not discussed this aspect of his life with me, specifically.  But I do know that his upbringing in a working class Brazilian family has impacted how he thinks about his art in a profound way.  The first time his parents ever went into a museum was to see his work, and he always thinks of his mother when making new images.  He wants his pictures to be as meaningful to someone of her visual literacy and background as it is to seasoned collectors and curators.  Likewise, he wants his exhibitions to be accessible and welcoming, and he has pursued a lot of work with socially engaged underpinnings.  For example, his Pictures of Garbage series was made with a dedication to issues of economic and social justice, as documented in the 2010 documentary film Waste Land. He worked closely with a group of impoverished trash pickers, or catadores, at a Brazilian garbage dump to create vast assemblages modeled after famous historical artworks. The catadoreshelped in selecting and arranging objects and served as models. Muniz then sold works in the series to benefit the catadores.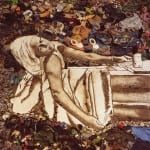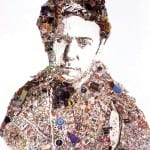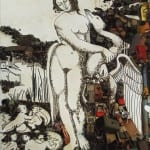 NM: Muniz's images are fine examples of visual literacy. He has spoken of the importance in today's culture of teaching children how to read images as well as they read words. What are your thoughts on that?
BA: All of Muniz works explore ideas of perception and perspective.  In today's world, we are absolutely inundated by images and have a tendency to move through them in cursory fashion, drawing very quick ideas about what they mean and represent.  But Muniz' compositions ask us to slow down and grapple with the nuanced relationships between constructed imagery, human expression, knowledge, communication and collective memory.  They reward close looking with feelings of wonder and surprise and remind us that there is often more to the world than first meets the eye – we have only to look for it and conceive of our surroundings in fresh ways.
NM: Even his playful images seem to be drawing us into a social or political statement.  Are there Vik Muniz images that aren't meant to be seen both ways?
BA: Many of Muniz's works have social content behind them, but it is not the only hallmark of his career.  Popular culture, and its resonance within our collective memory, has been of consistent interest to Muniz. In the late 1990s and early 2000s, he began exploring issues of celebrity and portraiture in his work, often experimenting with playful integrations of form and content. He crafted images of famous movie stars in diamonds, represented the renowned Abstract Expressionist painter Jackson Pollock in chocolate syrup, portrayed the Cuban revolutionary icon Che Guevara in black beans, and cast the Mona Lisa in peanut butter and jelly in a witty reference to her exceptionally recognizable face.
Also early in his career, he began representing those who are normally overlooked. Using grains of sugar, he rendered portraits of children on the Caribbean island of St. Kitts, whose weary families labored arduously for meager pay on the sugar cane plantations—a reminder that the sweetest things in life can have bitter origins. Muniz's early interests in scale and perspective, wit and playfulness, fame and social consciousness, took root as conceptual threads that would crisscross throughout his career.
I would also note that great artists of every age have copied the work of their predecessors and, in the act of appropriation, have created remarkably fresh originals with distinct identities. Muniz has continued this tradition of copying as a legitimate creative act, learning from his close study of centuries of artistic practice. In the show, you will find him playfully and skillfully re-creating work by some of art history's greatest figures, harnessing a diverse set of materials (magazine clippings, paint chips, paper, and pigment) to interpret compositions by Leonardo da Vinci, Claude Monet, and Andy Warhol.   Likewise, Muniz has used paper, the material on which photographic images are printed, to reconstruct and meditate on key images by some of the twentieth century's most influential photographers, including Garry Winogrand, Weegee, and Lewis Hine. In rendering these photographic originals by hand, Muniz ponders the role of the artist's hands in an age transformed by the photo-mechanical and, more recently, digital revolutions.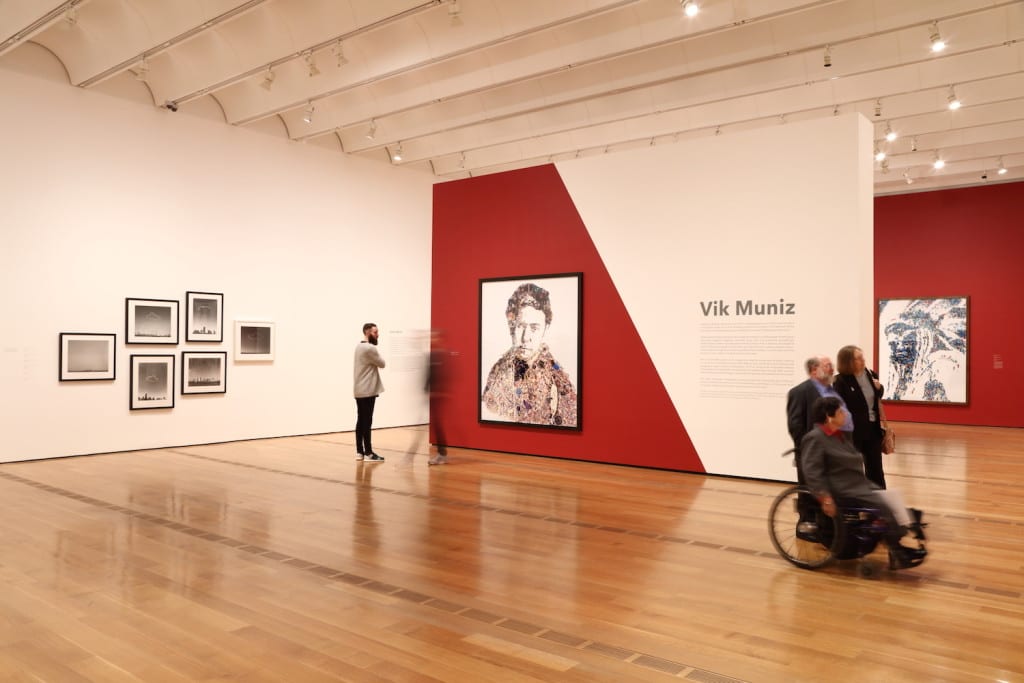 Vik Muniz, the High Museum, Atlanta, through August 21st. For more information please click here.
Organization and Support:
This Exhibition has been co-organized by the Foundation for the Exhibition of Photography, Minneapolis/New York City/Paris/Lausanne, and the High Museum of Art, Atlanta. The exhibition in Atlanta is made possible with support from The Donald and Marilyn Keough Family. Additional support provided by Friends of A Year in Photography and Friends of Photography.
---
Nancy is the Publisher and Founding Editor of South x Southeast photomagazine. She is also the Director of South x Southeast Workshops, and Director of South x Southeast Photogallery. She resides on her farm in Georgia with 4 hounds where she shoots only pictures.
All author posts