People who attended church before the 1950s, in the days before air conditioning became popular or mainstream, are probably familiar with handheld fans. These simple cardboard fans, mounted on plain, flat wooden sticks were familiar as a way to keep cool during church services. Eventually, "church fans" became commonplace in churches in the South. The fans typically displayed a biblical scene, rural church or spiritual still life on one side and an advertisement on the reverse. Funeral homes and insurance companies figured prominently on many fans, where various businesses would donate hand fans to churches in return for the advertisement on the reverse side.—Rebecca Sexton Larson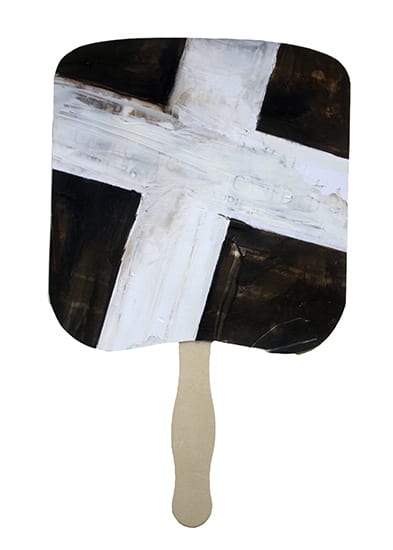 This body of work, Church Fans, is homage to the historical church fan in an attempt to revisit its spiritual imagery, its utilitarian form and rebirth as an artful symbol of worship. Today, church fans can still be seen at church picnics, tent revivals and other outdoor activities, serving the same spiritual purposefulness as in the past.
My fascination with church fans came from the collected tattered gems that could be found tucked away in my grandmother's bureau, closet and decorative vase on a foyer table.
Print information
Printing: Archivally printed by the artist on Ilford and Foma Fiber photo paper
Image size: approximately 10.5 x 8.5 inches
Matted image size: 20 x 16 inches
Unique Edition: original photo
Signed: Recto in pencil by artist
Bio
Rebecca Sexton Larson is a Tampa based studio artist working with historic photographic processes. She graduated from the University of South Florida with a degree in Fine Arts and a degree in Mass Communications. She was awarded Florida Individual Artist Fellowships in 1998, 2002, and 2008. In 2006, she received an Artist Enhancement Grant from the State of Florida and, in 2005, was commissioned by the City of Tampa to be Photographer Laureate for a year. During the past 20 years, Sexton Larson has taught, lectured and exhibited work nationally at various arts institutions and organizations. Sexton Larson's photographs are in numerous major collections throughout the country, including: Polaroid, Progressive Corporate Art, Graham Nash (Crosby, Stills, Nash & Young), Holland and Knight Law Firm, Polk Museum of Art, Museum of Fine Arts St. Pete and the Tampa Museum of Art.
Currently Sexton Larson is the Chief Curator at Art & History Museums – Maitland. Her museum experience includes The Tampa Museum of Art (curatorial and educational), the Polk Museum of Art in Lakeland (Education Curator) and the Leepa-Rattner Museum of Art (Associate Curator/Registrar).
Website: Sextonlarson.com
---
Nancy is the Publisher and Founding Editor of South x Southeast photomagazine. She is also the Director of South x Southeast Workshops, and Director of South x Southeast Photogallery. She resides on her farm in Georgia with 4 hounds where she shoots only pictures.
All author posts