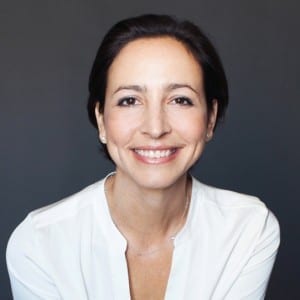 Nancy McCrary recently sat down with Dina Mitrani to discuss what's upcoming for her Miami gallery, her part in the creation of the Wynwood Arts District, her (excellent) advice to emerging photographers, and the intriguing exhibiton she opens in November.
Nancy McCrary: You and your sister Rhonda have been instrumental in the creation of the Wynwood Arts District of Miami. Tell us about your childhood history with Wynwood, and what prompted you to become involved in its revitalization. What has been most important to you about returning home?
Dina Mitrani: my sister Rhonda and I grew up in Miami Beach. My parents had a clothing factory in what is currently the Wynwood Art District. In the 70s and 80s this area used to be the garment center of Miami. My parents' business was a wholesale ladies sportswear company, where on the second floor were the cutting tables and many rolls of fabric. As young children we spent many summers working there putting tickets on the clothing and climbing up the rolls of fabric. It's actually quite lucky, but mostly our mom's business sense to nudge my Dad to buy the building in the late 70s without having any idea that it would eventually become this thriving arts district. For my sister and me it was a blessing because I had studied art history and my sister film and video, and we both work out of the exact place where my parents worked. Yes, it's a cool life cycle thing.
One of the most important things about returning home is to be able to be a part of the amazing cultural and artistic growth that Miami has experienced in the last 15 years. In the mid 90s the Margulies collection and the Rubell family collection opened up public exhibition spaces right in that neighborhood. After spending several years in New York City I was ready for some warm weather and curious about what was happening in my hometown.  In 2002 my sister and I decided to create art studios on the second floor.  In 2008, just after my two daughters were born, I was able to carve out a small space on the bottom floor of the warehouse to open what at the time was the only photography gallery in Miami.  A few years later my sister opened her Screening Room just next door, an exhibition space dedicated to video art and film production.
NM: The Dina Mitrani Gallery gives emerging and newly established photographers a high level of exposure, one they might not otherwise enjoy at that point in their careers. How do you choose your artists? What qualifications, traits, or characteristics do you look for in an emerging artist? Or, does the work alone speak for the artist?
DM: When I first opened the gallery it was a question of who was willing to show with me out of the people I had met in the last 25 years of my art career. I had a couple of friends; Peggy Nolan was a teacher at Florida International University where I had worked at the museum for a year. I met her and saw her work and I told her that one day I planned to open a gallery and would love to show her work. She's a 70-year-old mother of seven, grandmother of six, and she had never shown her work in a commercial gallery. Her work is in MOMA, SF MOMA and the National Museum of Women in the Arts in DC, and it was amazing that she'd never had gallery representation. She recommended Kanako Sasaki, a young Japanese photographer whose work I immediately loved. I also had recently met Roberto Huarcaya, the artist I am currently exhibiting, at an art fair, and I showed two of his images from his Paris Objects series. I basically opened the gallery with the 7 artists who were willing to show with me! This was during the economic crisis of November 2008 so I began slowly. I rotate my exhibitions every 2 months, and it's been growing organically. I've been slowly defining my program, which is something I still think about. I tend to lean towards narrative photography, conceptual photography. It doesn't matter to me if it's digital or film, a wet transfer, a collodion, but the image itself, the story behind it has to be strong, compelling, interesting, engaging, and beautiful.
NM: Everywhere I go it seems the question of the day is "where is photography going?" What are your thoughts on the future of photography – not only as a fine art medium but also as a cultural phenomenon?
DM: Well, I mean, it's pretty crazy, the world we're living in right now. It's changed in such a short period of time when it comes to visual images and photography because now everyone is a photographer. People take great photographs with these little iPhones we carry in our back pockets. Not that it can't be a great photograph; I just saw yesterday an exhibition here at the Bass Museum in Miami Beach, Rachel Harrison, who used her iPhone to make her work. So, again, it doesn't really matter what the tool is as long as the intention to create a work of art is there, and the work of art actually reflects that intention. That's what I think makes it successful and makes it fine art.
NM: The prevalence of cameras today – the fact that we've moved from a family having one camera to everyone in the family having 2 or more – what new challenges does this present to the emerging photographer that he or she may not have had to address previously? Other than the fact that everybody now says, "Oh, I'm a photographer, too!"
DM: Right. Everyone has Instagram. The challenge is that you have to make amazing work that really stands out and has something unique to say in a unique visual language. It's much more challenging for young photographers to make a career in photography, but if there's honesty and hard work and effort and a relentless perseverance about it then there's a chance. My relationship with the artists I represent is a partnership. I am aware of how challenging it can be. I see the struggle, and I understand it. Also today, it's very global and there's access to so much work that you really have to stand out.
NM: The season is just beginning in Miami and includes one of our favorites, Art Basel Miami. What are your plans for the gallery and the festival in the coming few months?
DM: I am going to be exhibiting the work of Roberto Huarcaya; he is a fantastic artist from Lima, Peru. He founded the Centro de la Imagen in Lima and he has work in many museums. He's going to be doing an enormous installation – a large scroll, a photogram of the Amazon jungle. I'm very excited to have this in the gallery; it will be very different than the traditional framed work hanging on the walls.
I will also be exhibiting at Miami Project for my second time. Last year was the first time I've exhibited at an art fair during Art Basel and it was a great experience. Art Basel has almost grown too big and it is impossible to see all the wonderful art that descends upon this city in such a short time. I've watched "art week" grow since the beginning and I have to say that Art Basel has done amazing things for the city. It has put Miami on the map as a destination for art and culture. When I moved back from NYC in 1999, there were very few opportunities to work in this field.
NM: We're seeing more galleries taking advantage of art fairs than even as recently as 2 years ago. What are your thoughts on that?
DM: I don't know yet how I feel about that, because I'm a young gallery. I did Miami Project last year and a couple of years ago I did Buenos Aires Photo, which was wonderful. I went with a solo project of artwork by Marina Font. I don't know how I feel about the art fair mania. I know of galleries who had spaces in Miami as recently as a couple of years ago who closed because they were spending all their time traveling the world going to the art fairs. They didn't need a local space. But, I really enjoy the exhibition. I enjoy curating the exhibition. Part of the reason I opened my gallery in Miami and I focus exclusively on photography was very much about what I wanted to bring to this community; I wanted to educate the community, support the young photographers in this community. I was just at Miami Arts Charter High School and I had a 2-hour workshop with the students, talking with them about their portfolios, and how to sequence, and how to create their images, and it was so rewarding for me. I have lectures at the gallery, I have artists discussing their work at the gallery, students who come in. In Miami I still get people who walk into my gallery – they may not be from Miami, they may be visitors to the city – and they ask, "oh… this is art?" Which makes me laugh but at the same time I'm happy that I'm educating people.
NM: I think the key word you used is community. I know we're living in this global world now but that sense of community … I see the art world coming back to it. The bricks and mortar are important, putting your eyes on the work itself.
DM: I think that's really important, and I think solo exhibitions are really important because they are so comprehensive and you can really get the breadth of the vision of the artist of a particular series. I'm not saying that I won't do art fairs, but right now I only do one a year. I'd love to do AIPAD. Paris Photo would be a dream and hopefully in the future I'll get there. I've been going to a lot of photo festivals and that's been wonderful – meeting colleagues, fellow gallery owners, photo editors, curators, young artists. It's a wonderful community on a national level. What's nice is we get to see people over and over again as we overlap a lot of the time. I was just in Arles over the summer, Atlanta last weekend, I've done Photolucida twice, and I'm going to Houston in March. So, I'm really enjoying getting to know and getting involved with the photo community on an international level because it's such a great community.
DINA MITRANI GALLERY
2620 NW 2 Avenue
Miami FL 33127
786 486 7248
www.dinamitranigallery.com
gallery hours:
tuesday – friday, 1 to 5
saturdays 12 to 4
mondays by appt.
---
Nancy is the Publisher and Founding Editor of South x Southeast photomagazine. She is also the Director of South x Southeast Workshops, and Director of South x Southeast Photogallery. She resides on her farm in Georgia with 4 hounds where she shoots only pictures.
All author posts