January 2013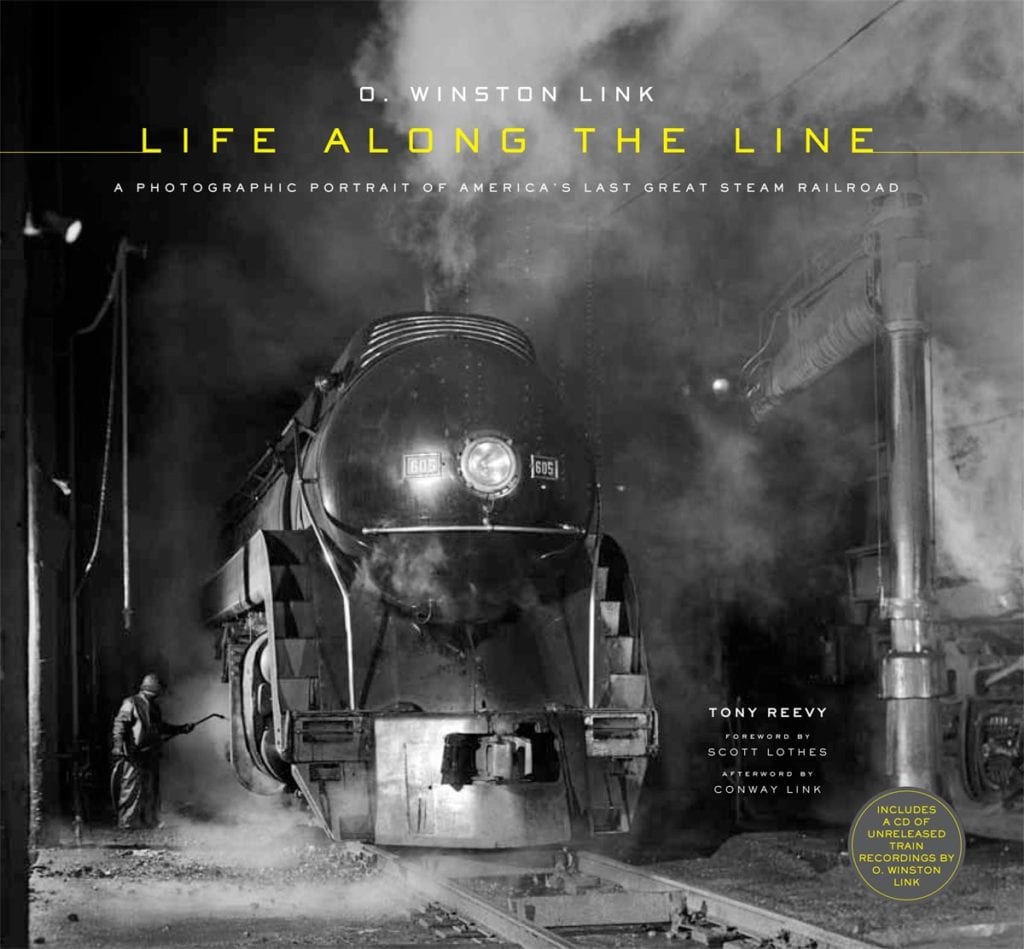 O. Winston Link photographed the Norfolk and Western, the last major steam railroad in the United States, when it was converting its operations from steam to diesel in the 1950s. Link captured the railroad industry at a crucial moment of transition, before the triumph of the automobile and the airplane, which ended the heyday of passenger rail service. His work also recorded a small-town way of life that was about to experience a significant shift and in many cases vanish completely.
O. Winston Link: Life Along the Line offers an expansive view of Link's multidimensional portfolio and a moving account of the people and communities surrounding America's last steam railroad. It includes Link's most famous photographs: Old Maude Bows to the Virginia Creeper, Hotshot Eastbound, and many classic posed tableaux taken at night. The book also features rare images that have never before been published: portraits, candid images of N&W employees at work, modernist images of locomotives, as well as powerful variants of the famous photographs.
Link created one of the best photographic treatments of the American railroad ever achieved, and today, his name is synonymous with railroad photography. His N&W project ultimately produced more than 2,200 black-and-white and more than 400 color images – not to mention hours of movie footage and sound recordings. O. Winston Link: Life Along the Line includes a CD of Link's notable unreleased recordings, many of which were made at the exact time and locations of the photographs in the book.
O. Winston Link: Life Along the Line coincides with an exhibition at the O. Winston Link Museum in Roanoke, Virginia, which features new prints from the archives, opening in November 2012. Highlighting selections from Life Along the Line and new prints from the archives, the exhibition brings a new appreciation to the skill and vision of Winston Link. The book is available for presale online at linkmuseumshop.com now and will go on sale in the Link Store at the opening.
About the Photographer
O. Winston Link (1914–2001) recorded the last major steam railroad in America, the Norfolk and Western, from 1955 to 1960, with photographs, movie footage, and sound recordings. A successful advertising photographer as well as a superb and innovative technician, Link undertook and financed the project on his own, working with the cooperation of the railroad. He chose to make most of his photographs at night, which required him to deploy massive flash arrays, and he meticulously set up his shots. His brilliant black-and-white prints have established him as an important American photographer, and specific images are modern classics. His work has been published in the books Steam, Steel & Stars (Abrams, 1987) and The Last Steam Railroad in America(Abrams, 1995) and is exhibited at the O. Winston Link Museum in Roanoke, Virginia.
About the Author
Tony Reevy, administrator at the UNC Institute for the Environment and advisory editor of Railroad History, has published two books, four chapbooks of poetry, and more than one hundred poems and articles. He often publishes articles on American railroading, including features about the railroad photographers Lucius Beebe, Jim Shaughnessy, David Plowden, and Walker Evans. In 2006, he won the David P. Morgan Article Award from the Railway & Locomotive Historical Society.
About the Book
O. Winston Link: Life Along the Line
Photographs by O. Winston Link
Text by Tony Reevy
Abrams / October 2012
U.S. $40.00 / Can. $45.00
ISBN 978-1-4197-0372-0
Hardcover with jacket
240 pages / 11 3/8″ x 10 5/8″
180 black-and-white and color photographs
About the Exhibition
Life Along the Line: New Selections from the O. Winston Link Museum Archives
The O. Winston Link Museum, Roanoke, VA
November 9, 2012–February 11, 2013
---
Jerry Atnip has a 38-year career as a commercial and fine art photographer. His images have been published in 40 countries, and since 2003, he's held over 75 exhibitions and been presented with over 90 awards. He is also a teacher, workshop director, curator, juror, frequent lecturer and serves on the boards of several Arts &
Photography organizations, including Atlanta Celebrates Photography festival and Slow Exposures Photofestival. His work has been collected by museums, corporate and private collectors and he is an Exhibiting Member of The National Arts Club in New York.
All author posts