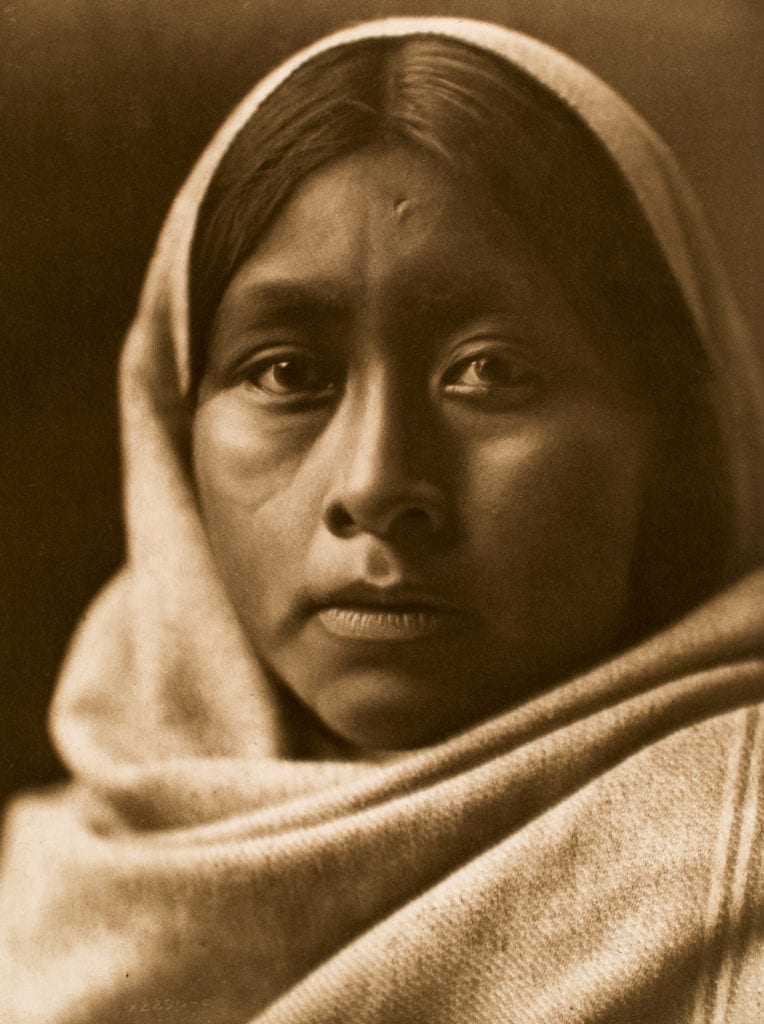 By Her Hand: Native American Women, Their Art, and The Photographs of Edward S. Curtis will captivate visitors to Booth Western Art Museum with the compelling and iconic photographs of Edward S. Curtis artfully displayed with Native objects in a groundbreaking exhibition. The photographs are drawn from Christopher Cardozo's unparalleled personal collection of over 4,000 original Curtis prints. In this unique exhibit classic Curtis photographs of Native women and children are combined with beautiful and evocative objects created by Native women on loan from three private collections from the metro-Atlanta area. Seldom before have fine art photographs and traditional Native objects been exhibited together, resulting in such beautiful and unexpected synergy. By Her Hand will be on display in the Booth's Special Exhibition Gallery through November 20, 2016.
Nancy McCrary: Thank you for speaking with us, Mr. Hopkins. For those readers who may be unfamiliar with the Booth Western Art Museum, would you please tell us a little bit about the museum's history and mission statement?
Seth Hopkins: The Booth Western Art Museum was founded in 2000 by an anonymous Cartersville family that had collected Western American art, Presidential letters, Civil War art, movie posters and illustrations for nearly 30 years. The original 80,000 ft.² building opened to the public in 2003. In 2009 an additional 40,000 ft.² wing nearly doubled the public space. With the completed expansion, the Booth became the second largest art museum in the state, behind only the High Museum in Atlanta. The Booth now offers the largest permanent exhibition space for Western art in the country.
In addition to permanent galleries primarily showcasing Western art by living artists, the Millar Gallery contains letters by every president paired with photographic images, including many by Yusuf Karsh. Four temporary exhibition spaces throughout the complex offer 15 to 20 changing exhibitions per year.
It is the mission of Booth Western Art Museum to educate, entertain, and inspire guests through the exploration of Western art, popular culture, and American heritage in a welcoming environment.
NM: The North American Indian, a 20-volume photographic history of the American Indian created by Edward S. Curtis from 1907 through 1930, is considered by many authorities of the American West to be the premiere visual record of American Indian life at the turn of the 20th Yet this extensive body of work was never fully appreciated until much later. Why do you believe there wasn't an appropriate interest in these volumes until the 1970's?
SH: When Curtis initially began documenting the Native peoples of the West and publishing the early volumes in the monumental set there was significant interest in his work. He lectured throughout the country and there was some momentum behind the project. However the cost of subscribing to the volumes, the economic hardships of World War I, and later the Great Depression, caused the project to be a financial disaster. Curtis had initially told J.P. Morgan, the financial backer of the project, that it could be completed in six years on a budget of only $25,000. In actuality, it took Curtis nearly 30 years and $1.5 million of Morgan's money. By the time it was completed the country had lost interest. Only a small number of the complete sets of the books were ever sold. The original glass plates, prints and incomplete sets of the books languished in the basement of the Morgan Library. During World War II these materials were dispersed, some being sold for bargain prices, some being given away and some destroyed. It was not until two young men named Zaplin and Lambert discovered a significant body of the work in the basement of the Boston bookstore that Curtis' work was rediscovered. Zaplin and Lambert set forth on a crusade to reeducate the public about the quality and value of Curtis's work, while also creating a commercial market that launched their careers as gallerists in Santa Fe, New Mexico. Scores, if not hundreds, of exhibitions over the past 40 years have reintroduced Curtis and his evocative images to the public.
NM: J.P. Morgan financed the production of The North American Indian, but failed to provide a salary for Edward S. Curtis, an intentional oversight that placed a hard financial burden on him throughout the 23-year process. Why do you feel he believed the project to be of such importance that he willingly endured that stress in order to finish it?
SH: While establishing a portrait studio in Seattle, Curtis became aware of several Native Americans living in squalor amidst an otherwise thriving city.
In 1898 he first photographed "Princess Angeline," (the aging daughter of Chief Seattle, from whom the city takes its name.) Despite her royal lineage, she was living in a rundown part of the city called Shantytown.  Through her, Curtis began photographing the Tulalip tribe near the city and thus began his quest to document the disappearing culture.  His photograph was made shortly before her death.
He became enamored with their exotic look and determined that he would capture their images before they were gone. This is a common theme in Western art dating back to the works of George Catlin and Karl Bodmer, who set out to document Native peoples whom they believed would be extinct within a generation or two. Curtis certainly also had wanderlust and a sense for adventure, having been an avid mountain climber and traveler. This project allowed him to get away from the stagnant portrait studio and explore the country. Once in the midst of the project he became obsessed with its completion and also became a strong advocate for better treatment of the Native Americans, further steeling his resolve to complete the project. He lost his wife, his relationship with most of his family and his financial security in the pursuit of completing this monumental project, yet he overcame the obstacles to produce something invaluable within the history of America.
NM: Curtis has been criticized for altering photos – dressing Native Americans as warriors long after the tribal warfare had ended, retouching images to remove modern cultural items, removing images of Native Americans attempting to adapt themselves to western society – alterations that affected the way the settlers to the West viewed the Native Americans. What do you feel were his motivations in doing such?
SH: By the time Curtis began his project Native Americans were generally confined to reservations or other small areas unwanted by the general public. Attempts to "civilize and assimilate" these people were met with varying degrees of resistance. Some tribal units readily embraced modern technologies, while others steadfastly held to their traditional ways. In keeping with his mission, Curtis endeavored to show traditional tribal practices and lifeways, believing he was documenting them for posterity. Therefore he was proactive in removing clues that Native peoples were changing and becoming part of modern American society. While this means his images were not truly documentary in nature; that was not necessarily his ultimate goal. Who's to say what rules should be retroactively applied to his practices? If he could make the image more compelling or artistic he would often err on the side of art. Long before Curtis, photographers were moving bodies around Civil War battlefields to create interesting compositions while others were manipulating negatives to create more dramatic images and attract attention.
NM: Curtis was called "Shadow Catcher" by the Native American subjects he photographed, a name entirely appropriate with photographers. Considering the ill will, and often animosity, shared between the white man and the Native American how do you believe he came to achieve such trust?
SH: The reception Curtis received varied widely among tribal groups. Some readily welcomed him and were anxious to pose as well as share their tribal histories and customs with him. Meanwhile others were highly suspicious and resistant to his efforts. In many cases he lived among the Native people for months at a time, slowly earning their trust and eroding their objections, allowing him to capture their daily lives and candid images that would not have been possible otherwise. In addition to taking photographs, Curtis was also interested in documenting their practices, ceremonies, music and other historical data which is also contained in the 20 volume set. In fact, by the time of his death in 1952, his obituary barely mentions his work as a photographer and classifies him as an ethnographer. It would be another 20 years before his photography would be rediscovered and celebrated.
Bio: 
Seth Hopkins is the Executive Director of the Booth Western Art Museum in Cartersville, Georgia, a position he has held since 2000. Since 2003, he has also served as the Executive Director of Georgia Museums, Inc., which operates the Booth Museum, Bartow History Museum and Tellus Science Museum. Prior to entering the museum profession, Hopkins worked in the fields of journalism, public relations, and telecommunications management. Hopkins holds an undergraduate degree in journalism from Syracuse University. He has completed courses in art history at Kennesaw State University, Georgia State University and the University of Wyoming, as well as museum studies courses at the University of West Georgia. He received a Master's degree in Museum Studies from the University of Oklahoma in 2005. While at OU, he completed his Master's Thesis: Andy Warhol Played Cowboys and Indians. Hopkins twice served as a juror for the annual Arts for the Parks exhibition in Jackson Hole, Wyoming, and has also judged the annual Cowboy Artists of America Show and Sale in Phoenix, Arizona. He has had articles published in American Art Review, Western Art Collector, and Persimmon Hill. In 2010 he was honored with the prestigious Kennesaw State University Flourish Award, given annually to a leader who has helped the arts flourish in Georgia. He has also served as the President of Museums West Consortium, an association of 14 museums located in North America organized for the advancement of Western American art, history and culture.
In October 2015, Hopkins became an Honorary Member of the Cowboy Artists of America.
Hopkins is a native of Dexter, Maine, and currently resides in Cartersville, Georgia, with his wife Joyce, sons Stephen & Alex and daughters Hadley & Ansley.
By Her Hand: Native American Women, Their Art, and The Photographs of Edward S. Curtis
Dates: August 20, 2016 – November 20, 2016
Location: Booth Western Art Museum, 501 Museum Drive, Cartersville, GA 30120
Gallery: Special Exhibition Gallery
Phone: 770-387-1300
Website: www.boothmuseum.org
---
Nancy is the Publisher and Founding Editor of South x Southeast photomagazine. She is also the Director of South x Southeast Workshops, and Director of South x Southeast Photogallery. She resides on her farm in Georgia with 4 hounds where she shoots only pictures.
All author posts