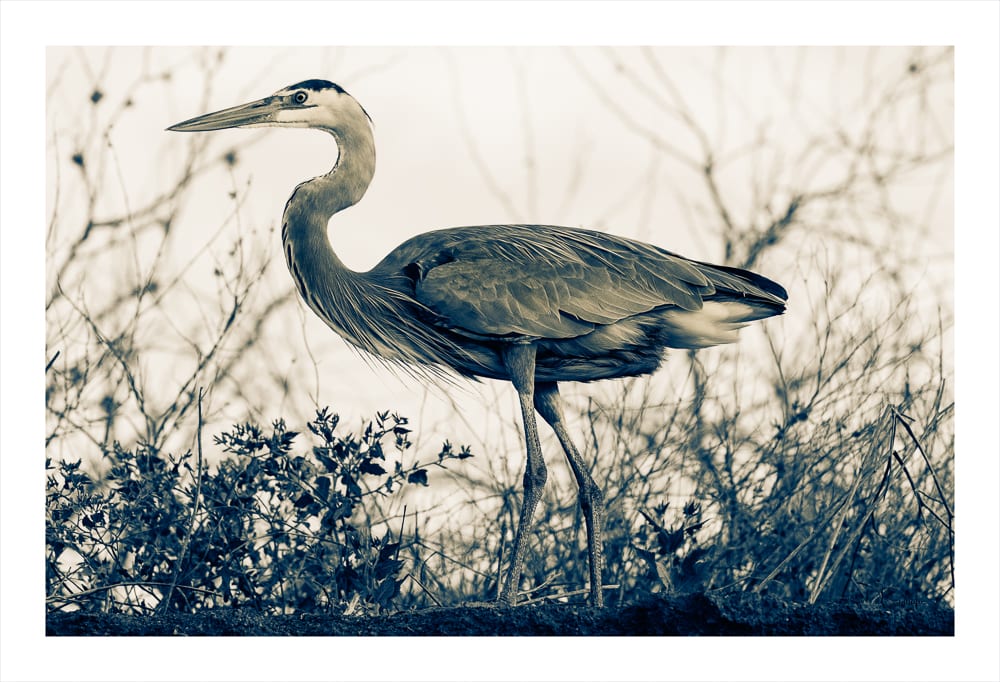 Archipiélago de Colón, Ecuador, or the Galápagos Islands, is a very diverse group of islands formed by volcanic activity. Filled with many unique species and harsh landscapes, they are magnificent. Since Charles Darwin's exploration in 1835, they have been the most studied group of islands by scientists worldwide.
While travelling there in 2009, I was captivated by the primordial feel of the landscape that still exists today. I felt as if I had stepped back in time. Yet in contrast due to the large number of tourists that visit, animals like: birds and reptiles show total lack of fear of humans.
In printing these images I worked with Master Printer John Dean to develop a split-tone effect to portray this experience. The colors in these images are changed digitally, using indigo for the darks and sand for the highlights. This gives the photograph an otherworldly, vintage look, different from traditional black and white. They are printed with archival pigment inks on Awagami Kozo paper (a Japanese mulberry paper) to give the images a softer, painterly feel. Originally they were exhibited without glass to enhance this effect.
Bio: Born in Homestead, Florida in 1952, Judy Morris Lampert is an Atlanta-based artist who works in fine art photography. Family, history and a sense of place are common themes in her work. Lampert was adopted as an infant and is always using photography to connect to that past. She has traveled throughout the world photographing people and places. Lampert has a strong passion for supporting the arts in the Atlanta area and has served on the boards and advisory boards of Art Papers, the Art Reach Foundation, Atlanta Celebrates Photography and the Hambidge Center for the Creative Arts and Sciences. She is most proud of becoming a Hambidge Creative Residency Program Fellow in 2014.
judylampert@me.com
---
Nancy is the Publisher and Founding Editor of South x Southeast photomagazine. She is also the Director of South x Southeast Workshops, and Director of South x Southeast Photogallery. She resides on her farm in Georgia with 4 hounds where she shoots only pictures.
All author posts