Arnika Dawkins Gallery is pleased to present Najee Dorsey | Southern Crossroads, a series of stunning digital photographic montages that explore his connection to his southern roots. Najee Dorsey | Southern Crossroads, features work created by the artist and is his creative exploration of his southern-ness and southern heritage. Many characters in Dorsey's colorful, bold, and nostalgic imagery are of well-known individuals, family, as well as those that are beautiful stand-ins for humanity.
Najee Dorsey developed his craft and has become well known for his mixed media collage and digital media collage images of little-known and unsung historical figures, as well as nostalgic scenes from African American life in the southern United States. Najee Dorsey chronicles moments in Black life throughout history. He maintains that "stories untold are stories forgotten." Dorsey is interested in narratives of "Black life in history and present-day that must be retold and remembered."
Arnika Dawkins Gallery is devoted to presenting fine art from both emerging and established photographers, specializing in images created by artists from the African Diaspora as well as images of people of African descent. Launched in 2012, the gallery's objective is to provide an educational platform that supports this burgeoning community of artists. The gallery is a member of the Association of International Photography Art Dealers (AIPAD).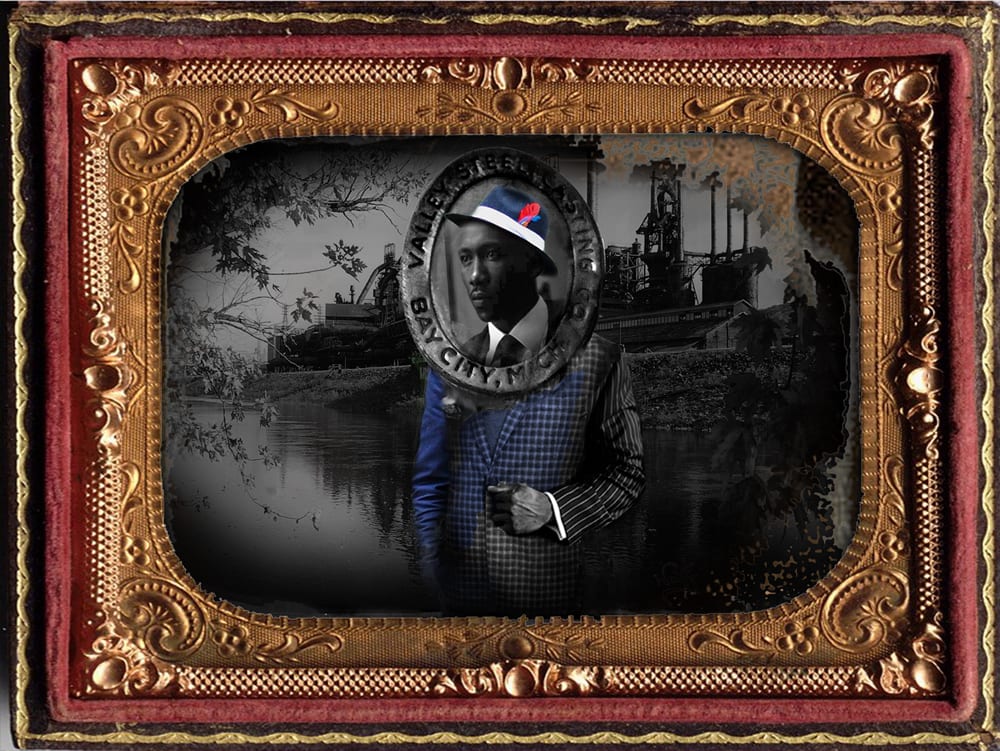 Nancy McCrary: Who were your influencers when you began your art career in the 1990's? Tell us how they directly and/or indirectly influenced your work
Najee Dorsey: My earliest influences were Najjar Abdul-Musawwir, an undergraduate at Southern Illinois University at the time and George Hunt, the most well known black artist in Memphis, Tn. Mr. Hunt did the Memphis in May posters. Najjar was the person that got me back in the studio once I stepped away from creating art. He was fun to be around and we did a number of exciting projects together. I would say the thing I still hold over from my times in the studio with Najjar would be my glazing when painting and what i now consider the atmosphere i.e. translucency in my photomontage works. Mr Hunt who we lost last year was an amazing collagist and southern narrative artist. I would attribute my use of found materials in my process to his influence in my works.
NM: I love a story about a self-made man. Entering the art world without what some would see as the requirement of a college degree, what were your fears? And how did you overcome them?
NJ: I'm not sure I came to pursue my art career full time with many fears. Like many artists in my young adult life I had several other jobs while I was figuring out my path. I've always been a really good communicator and great with people. I found myself working in several sales positions and quickly rising to the top in each of them. When I finally decided that I would give it a go with focusing solely on my art I went in with the mindset of knowing that I've been very successful working for other people and other companies and I had no choice but to see that same success if I put all my energy into my art. The greatest compliment I ever got was after applying for a job and before I made it home, the manager that interviewed me called to offer me the job and got to talking with my mom. He told my mom that your son has the power to move the world. That has always stuck with me and I choose to believe him.

NM: Your southern heritage, along with the  African-American history of the American South, has a place in all of your work. Was knowing this history instilled in you at an early age? If so, by whom? And, how important is art in the teaching of this  history to the youth of today?
NJ: I had a very loving and supportive mother but I can't say that my interest in history is something that I got from my family or from school. It is something I'm naturally drawn to. I also root for the underdog and in this country we/ African Americans have been the ultimate underdogs. Art is one of the talents the creator gave me and I've found it to be an extremely powerful form of self expression and a tool that can be used for a number of purposes of which one is correcting or expanding the historical narrative. I say stories untold are stories forgotten and I choose to use my creative energy to give visual representation to our history and culture.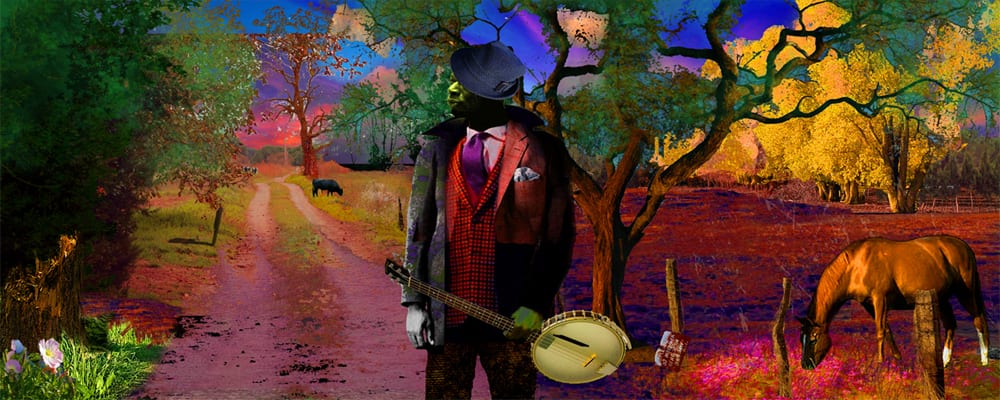 NM: Your bio on your website states: "As an artist, Najee Dorsey has developed much in his craft over the years, and has become known for his mixed media collage, digital media collage images of little known and unsung historical figures, as well as nostalgic scenes from African American life in the southern United States"" Tell us about your creative process in creating these collages.
NJ: There are a number of things involved in my process. For one I'm always gathering images and found objects I find interesting. I'm constantly taking pictures of people or patinas on rusting metal or changing leaves and sometimes aging fruit. These are elements I incorporate into my photomontage works. And the way I use them you wouldn't be able to recognize it in the work unless you saw my process but it's there. Depending on the piece, sometimes I start working the figure but the figures in my works are oftentimes what I call original compositions themselves. Taking a face from here and shoulders from there and legs from this or that photo as well as working out what they are wearing to create a completely new representation. Where Romare Bearden who later became an influence would leave the various elements for the viewer to see the changing plains or angles I choose to make them seamless as if it was that pose from the start. If you look at any of my interior scenes you'll see I get lost in the space while creating. I love building the rooms my people inhabit. From the walls to every element that speaks to how they live and what's important to them in their home. And the atmosphere, that's the magic. Look at This my Baldwin and you'll see it, you'll see that magic …

NM: Your accomplishments over the last 15 years are remarkable. From museum shows to gallery representation, magazine and other media coverage, and just the basic fact of supporting yourself economically as an artist, you have covered a lot of road. What advice would you give a young artist today who's just beginning their journey?
NJ: Spend more time developing your craft than focusing on building a brand. Let your work be your calling card. Also to learn the art of the soft sell. Many artists focus so much on the price of a thing and getting as much as possible, oftentimes based on what numbers they see other artists are getting or asking for work. It's a long journey and it's better to have a growing list of collectors than one or two higher priced transactions. The soft sell is just being actively engaged. Sharing your work, your thought process, images of your studio, going to shows and being present, networking with other artists and art industry professionals … just being in the mix and keeping your name and face in front of people while you're creating and growing as an artist is a very good thing. Let the price of a thing be the thing you focus the least on. Also ask yourself, what are you doing that's different, that's adding to the conversation. Don't be afraid to explore and push your medium. Anything that is not growing is dead…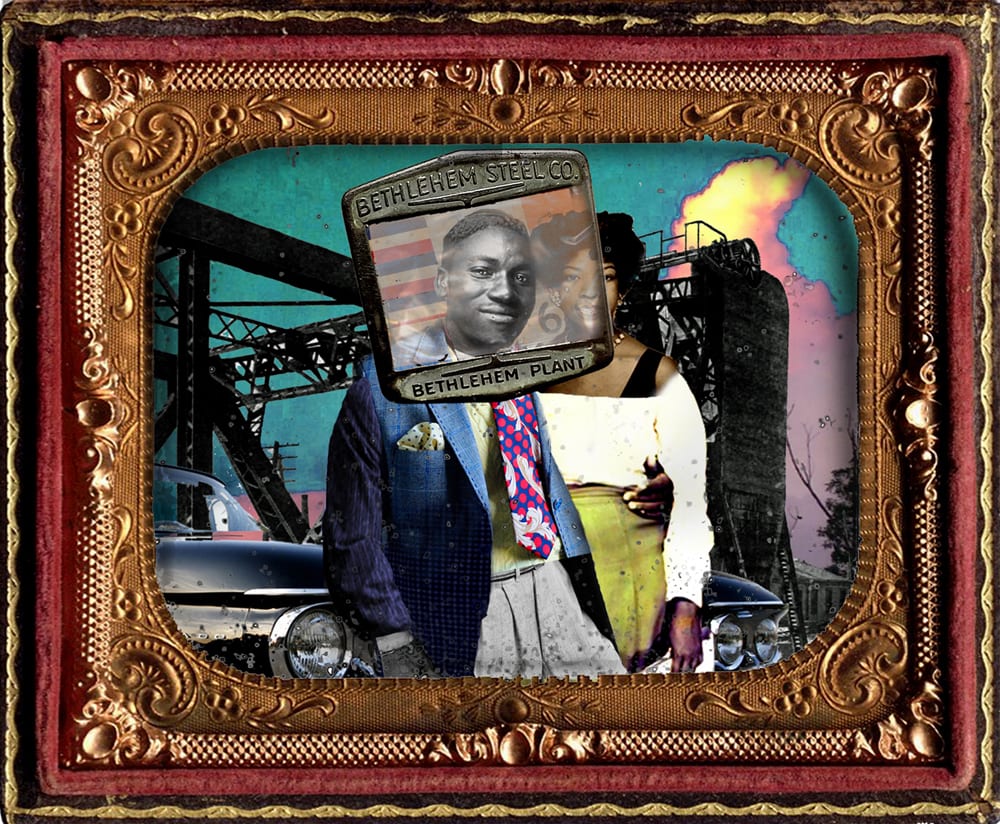 NM: In 2010, you created Black Arts in America online as a platform for black artists, art professionals, collectors and enthusiasts. It took root and has thrived with "a monthly virtual reach of 750,000 and growing". This is phenomenal. What have you learned from this experience, and where do you want to take it next?
NJ:  I've learned many lessons and unfortunately I couldn't possibly list them all here. I would ask anyone interested in hearing many of those lessons to visit the Black Art In America Youtube page and look for the segments withNajnow. But where we are going from here in our 11th year of Black Art In America, we recently purchased a commercial property in East Point, GA not far from Hartsfield Jackson airport and in the process of building our company headquarters. It will be an amazing showcase for us and the various things we do at BAIA. We also came out with our second issue of BAIA The Mag, a bi-monthly print newspaper that will expand our audience and reach people who are currently not following us in the digital space.
NM: You have a current exhibition at the Arnika Dawkins Gallery in Atlanta. How did this exhibition come about? And, what would you like the visitor to know about the images in this show?
NJ: Arnika is a fantastic gallerist and the only African American owned gallery focused on photography based works. It's a huge deal for me because finding a home for my photomontage work hasn't been the easiest thing. Don't get me wrong I have a strong collector base but being one of the gallery artists and having a solo show in this segment will introduce my work to the audience I'm looking to grow with. Arnika has already gotten my work in a show at the Griffin Museum of Photography. I can't wait for the international art fair goers to be introduced to my work. It will be something they haven't quite experienced and i'm positive they will be moved 🙂
NM: What's next for you? What's still on your to-do list?
NJ: I have two museum shows coming up. I'm in a group show that opens at the end of May at the Nelson Atkins Museum and a solo show at Mariposa Museum & World Cultural Center on Martha's Vineyard that opens at the end of May and runs through October. Whats on my to do list? Keep creating and to keep growing…
---
Nancy is the Publisher and Founding Editor of South x Southeast photomagazine. She is also the Director of South x Southeast Workshops, and Director of South x Southeast Photogallery. She resides on her farm in Georgia with 4 hounds where she shoots only pictures.
All author posts