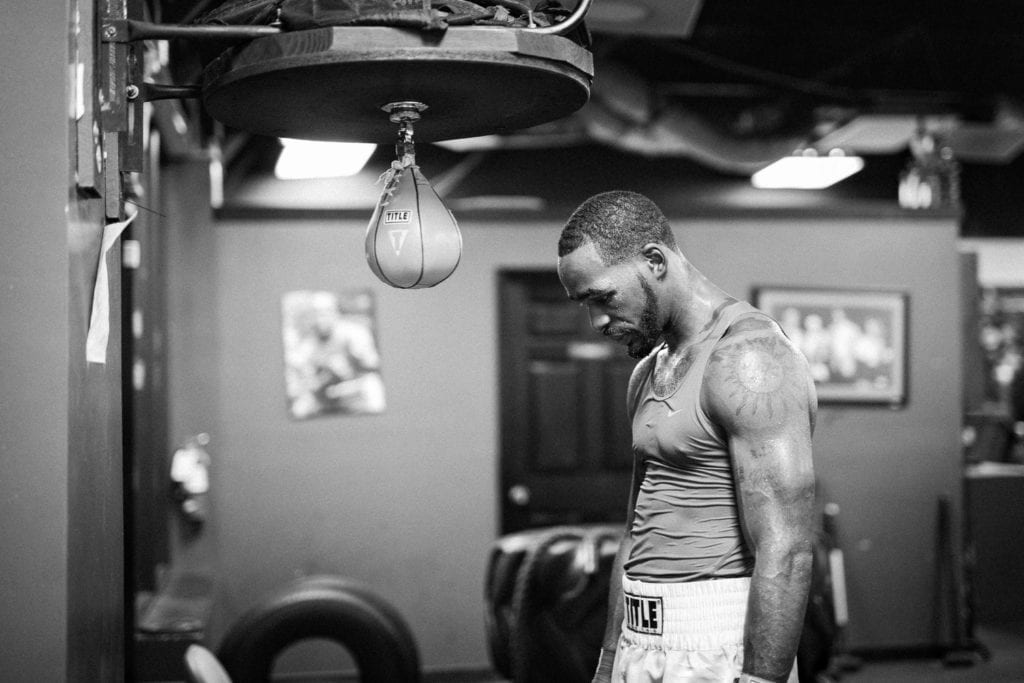 Son of God #5
CR Barlow is a young boxer determined to be the best professional fighter in his class. His struggle echoes that seemingly infinite drive that all boxing greats possess. Boxing allows CR to rise out the ashes of a violent past, one that still plagues his present. At 17 he was sentenced to four years in prison for armed robbery. While inside he discovered boxing, and has made it his profession ever since his release four years ago. The intense journey he is on offers him the opportunity to achieve something that very few accomplish; to be the greatest fighter in the world. This series elucidates CR's struggle, his isolation and unwavering determination. It is an intimate look at his life, inside and outside of the ring.
When I first met CR, he was very shy, but there was an unquestioned resolve in his character. I didn't see him as just a fighter. He was a young man, an Atlanta native who would never deny or forget his difficult roots. He reminded me of myself. Our work together began in a small sweltering gym. It has continued at warehouse boxing rings, state fairs and event centers, all settings for amateur fights. CR's quest to become a great fighter is relentless and unforgiving. He makes no apologies for his passion. He grinds out a punishing physical regimen daily. His dedication to his profession is spiritual and devout. He is like an ancient monk who flagellates himself to be closer to Christ, although CR's divinity is at the center of the ring, with his hand in the air, victorious.  -JB Rasor
Bio
JB Rasor was born in southern Mississippi in 1980. He attended UCLA for his B.A. in Political Science, graduating in 2006. He is currently finishing his M.F.A. in Photography at Savannah College of Art and Design.
JB began working in the film industry at 18 years old. As a union grip he has crewed over 20 films, including Ali, The Perfect Storm, Almost Famous and Mission Impossible II. In 2008, he began working in live news broadcast and has worked with CNN, NBC and ABC to name a few. Stills photography and digital cinema has been a central focus throughout his career.
JB works with both film and digital media, exploring topics that range from life in rural America to the complexity of international conflicts. His documentary work objectively analyzes the social climate of contemporary society.
JB and his wife live in Atlanta, Ga.
jb@jbrasor.com
www.jbrasor.com
www.instagram.com/jbrasor
---
Nancy is the Publisher and Founding Editor of South x Southeast photomagazine. She is also the Director of South x Southeast Workshops, and Director of South x Southeast Photogallery. She resides on her farm in Georgia with 4 hounds where she shoots only pictures.
All author posts