Through November 1st, 2017
Opening Reception and Artist's Talk
September 30, 2017, 5-7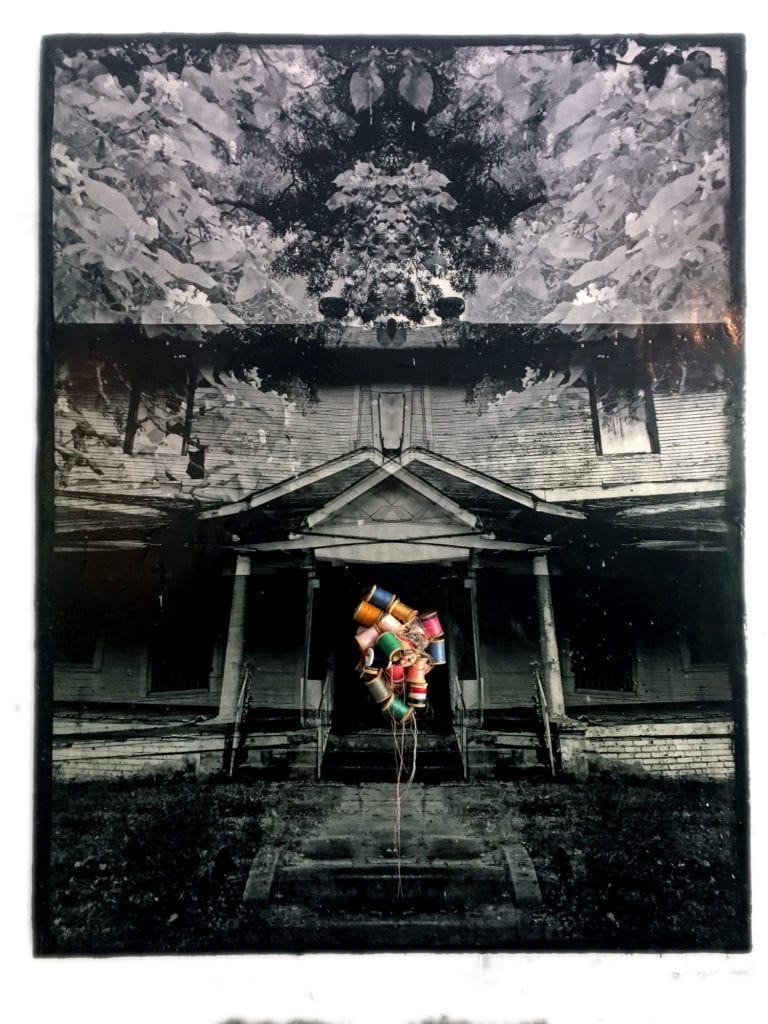 Birmingham, AL (hold your life together on a string and a pray) 36×46
Technique
I constantly am doing photography of a variety subject matter that mostly is indicative to a Southern feel or place. I do selects and editing before sending out for printing. The prints are then sorted and laid out with a variety of found materials until ready to be combined. My photographic collages are C Prints combined with found text or materials. I also incorporate old books, found text, old photographs and tintypes along with encaustic. The pieces are then scraped, sanded, and painted before a coat of wax is applied. The entire piece is covered in a final coat of resin.
The Cyclops Series
Every summer for two weeks from the age of 6 to 16 my mom would haul us off to the interior country of rural Georgia. I started thinking about this "adventure" a few years ago. At the time I hated it, especially as a teenager. However, once I started to wax nostalgic about it , two weeks off the grid wondering through corn fields, pecan orchards, and secluded ponds sounded great. I thought if I could write a screenplay it would be about a photographer who goes back in time, only to photograph one brief moment. They couldn't change the past, jus document events that are now only memory to the time traveler. While returning to the present a distortion of the images would take place – from hurdling through time. A faux narrative would be created, involving reassembling this new past.
My series, Cyclops, is a fictional, "one-eyed" camera's distortion of present events as a metaphor of past memories. I am continuing my photographic exploration of southern moments, places, and things; albeit a manipulated one. This new body of work, unlike my past work, is a distortion of past memory using multiple exposures, mirrored images, and layered images. Along with wax and resin, the final pieces will sometimes contain chalk, ash, and found "junk". The final presentation is a mimic of decay; the pieces like something found by a wanderer or traveler.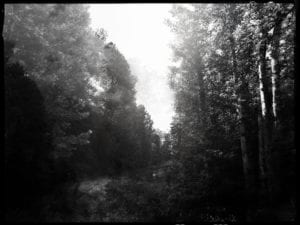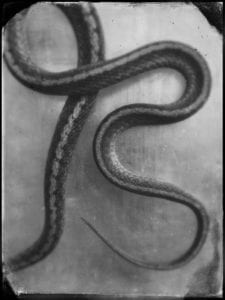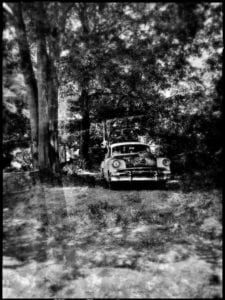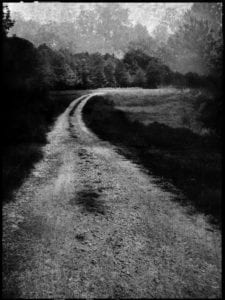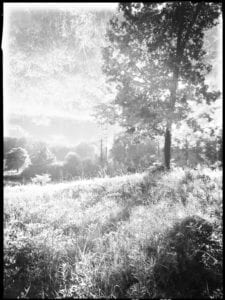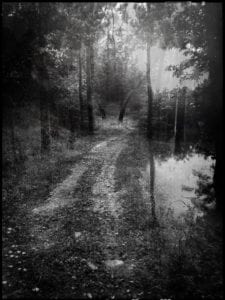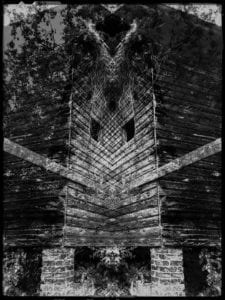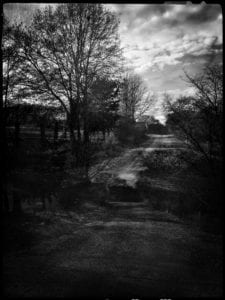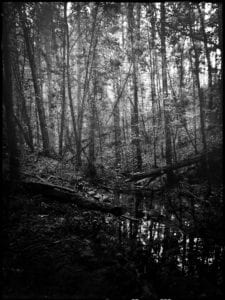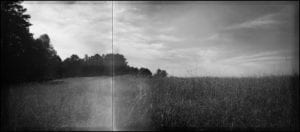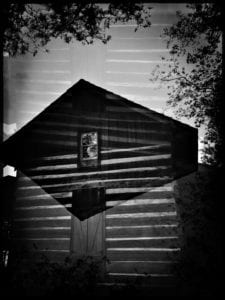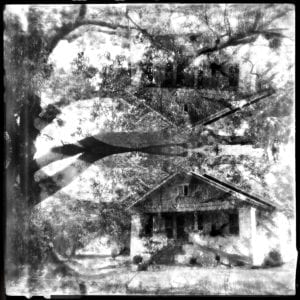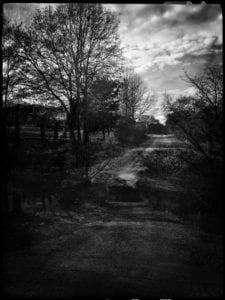 BIO
At 21, on the verge of graduating from college and passionate about the history of art, specifically contemporary art, I was offered an opportunity to study in Paris. The 'catch' was that I had to do photographic studies while living in 'The City of Light.'  With little knowledge of the photographic process or its relatively young history, I decided to dive right in and learn all I could about this art form before the summer trip began.
For hours I poured over photography books by classic artists such as Nadar, Steiglitz, and Cameron, eventually progressing to the modern masters like Witkin, Avedon, and Mann. In the midst of this self-study, I came across Doug and Mike Starn, whose work I found immediately inspiring. The Starn's art grabbed my interest and spoke to me as an artist. The torn photos and random hands-on feel of their work juxtaposed everything else I had seen represented in photo history. Their work to me became almost painterly and I felt inspired by the way they pushed the medium in scale and display. Their work changed my perception of photography, enabling me to use the art form as a medium for my individual interpretations. With the Starn's work I had inspiration to do photographic work, but what would be my subject matter?  While studying in Paris I found my major focus of subject in the vast and beautiful cemeteries. The arcane, haunting beauty of these solemn places was overwhelming and inspiring, initiating my 10-year documentation of cemeteries.
I now photograph mostly rural things, places, or scraps/discard; almost always a chance event.  I love the forgotten and weathered decay of any environment. Photographing with my iphone, which I treat almost like a pinhole or vintage brownie camera, I try not to capture anything technically perfect. I shoot through old magnifying glass and utilize apps to aid in a mimicked look of age/analog. Many images are inspired by personal moments growing up in the South. I am inspired to photograph images that express tranquilly or a secret moment. I also capture still lives of unique objects that resonate a personal history or that I just stumble upon.
The physical work is serene and rough almost simultaneously always allowed to be imperfect. The hope is to express an arcane beauty that dwells within modern nostalgia. Some of the works become fictional scrapbooks; where I combine found text or old photographs with my photographs. Ultimately all the pieces are one of a kind testament to forgotten places and captured time. Hopefully the work becomes a portal to a viewer's memory and past histories.
David Diodate is represented by South x Southeast PhotoGallery. www.sxsephotogallery.com. For additional information and/or pricing please contact nancy@sxsemagazine.com.
Born and raised in Tampa, Florida.
Lived and worked in Atlanta, Georgia for 20 years.
Current home is Birmingham, Alabama
Graduated from the University of South Florida in 1993. Majored in Art History.
Instagram @diodateart
---
Nancy is the Publisher and Founding Editor of South x Southeast photomagazine. She is also the Director of South x Southeast Workshops, and Director of South x Southeast Photogallery. She resides on her farm in Georgia with 4 hounds where she shoots only pictures.
All author posts