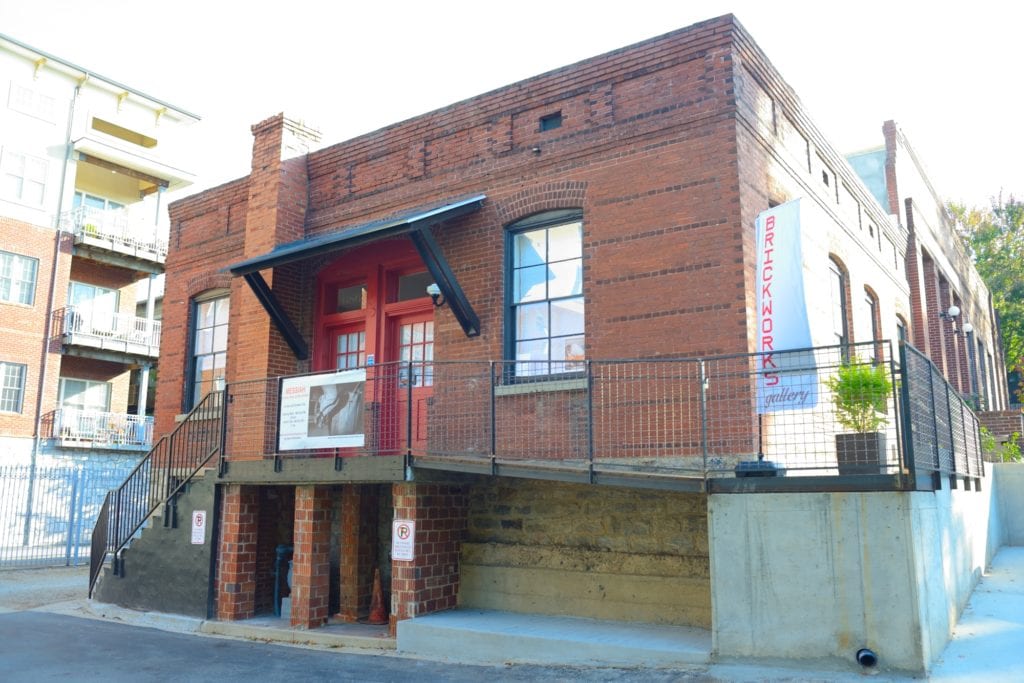 Nancy McCrary: Laura, thank you for talking with us today about your new Atlanta gallery, Brickworks. Is this your first gallery and, if so, tell us about your decision to open Brickworks.
Laura Adams: Thank you for your story about my gallery. In a way this is my first gallery, although I have been involved in other galleries for several decades. I have been a partial owner of two galleries in the past, but they were cooperative, multi artist-owned galleries. This gallery is totally controlled by me, so I get to make all of the decisions and I get to determine its direction. I have also been a working artist who has shown my work in galleries throughout the East Coast, from Manhattan to Memphis, and many points in-between. I've learned a lot, as an artist who uses the gallery system to show my art, what works and what doesn't.
The building that is the home for Brickworks Gallery is the "B Mifflin Hood Brick Co" building. This name is written in brick above the front door. In the 1920's, this building was the headquarters and showroom for B Mifflin Hood brick products, named after the company's founder, Benjamin Mifflin Hood. This building was on the rail line, which is now the fabulous Atlanta Beltline. Its a beautiful, early 20th century industrial building, outfitted with many of the brick floor tiles and structural tiles that the company was selling back then.
After turning part of the building into a loft-style home, I thought the remainder of the building would make a great studio space for me to create my art. My work is best described as a "heavily layered paper collage-type painting." However, the more time I spent in the space, the more I began to realize that the space could be so much more. I always wanted to be my own boss in the art world. I have known a lot of artists, and have collected their work for decades. With the building being located on the Beltline, I thought this would be a great opportunity to show the work of other artists that I know and love.   We also have built in foot traffic and I believe, a hunger in the city for more art opportunities.
NM: You have a long history as an artist in the South. How did you become involved in the arts, and on what are you currently working?
LA: I have been a working artist for 25 years. I have always been artistic, but I'm not formally trained. In fact, I have a law degree from Emory University, class of 1989. I had a bit of a crisis back in college when I did not believe I could make a living in the arts. So, instead of becoming a photography major, which was my first choice, I did an about-face and ended up in a more "practical" course of study, which then led to law school. I practiced law for six years in Savannah, Georgia in the corporate and commercial litigation field, until I was up for partnership. I then had another crisis – should I commit to a law partnership or should I do what I really wanted to do- which was become an artist. I quit practicing law and never looked back! I think it is important to note that I don't think I was a very good lawyer. My heart was not in it. I am definitely a better artist than I was a lawyer, primarily because I love the work.
As far as my current work, I am focusing on allegorical forest depictions. I love to hike, and I particularly love hiking in the Appalachian Mountains, where I have a small cabin. I often use these hikes as inspiration for my work. My work tends to be very colorful, multi-layered, and filled with patterns and texture. The pieces are representational, yet fanciful and emotional.
NM: The first exhibition at Brickworks opened in October with Ben Helton's Messiah. This is a powerful and beautiful body of work. What other exhibitions are planned?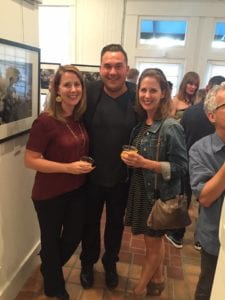 LA: We were so excited to be able to show Ben Helton's work. His story of the Messiah Miracle Worship Temple is incredibly inspiring and moving. Ben spent six months embedded in the congregation of a tiny, charismatic, African-American storefront church. The photos, shot in a vintage black and white flash photography style, look like they could have been taken fifty years ago. The images are so honest and candid. You see the role of music and dance, of passion in faith, the role of visiting pastors, the interaction among the generations of congregants. Its really lovely work.
After Ben's show, we will be holding a "grand opening" of the gallery, where we introduce some twenty artists that will be represented by the gallery. This opening date is Friday, December 2d. The gallery will be floor to ceiling art – all different genres – from landscape to vivid animal portraits to coastal pastels to intricate sculpture. And photography, too! I will continue to show Ben Helton's work as well as the work of my partner, Andrew Feiler.
Then in March of 2017 we are hosting a landscape photography show, curated by Elizabeth Avedon. This will be our first guest curation of work and will coincide with a landscape show opening at the High Museum.
NM: Your partner, Andrew Feiler, is a noted author and photographer. Do you collaborate on projects? Will he be an active part of the gallery?
LA: Yes, I will of course be showing the work of Andrew Feiler! We will be carrying his book of photography, "Without Regard to Sex, Race or Color," his photo-documentary of the abandoned campus of Morris Brown College. I will also show a line of his photography which I describe as his "colorful happy photos". These photos are also of abandoned spaces, but they are humorous, thought-provoking, and have a wonderful serendipity to them.
Andrew has a background in strategy consulting, so yes, I collaborate with him and am always looking to him for big picture ideas. I think one day we may actually try to create a specific artwork together, but our styles and media are quite different, so I'm not sure how that will work out. For now, he is my sounding board on business issues and on budgetary concerns. He is also a second voice on my choice of artists that I would like to show in the gallery.
NM: What are your thoughts on the arts in the South today? Is there a specific area we should improve upon, and/or what gains have we made that you would applaud?
LA: I think the status of arts in the South today is improving. There seems to be a lot more interest in art in our region than there has been in the past. Perhaps its the proliferation of "creative-based" careers, the interest of the millennial generation in art, more acceptance of art as a way of life among other generations. Atlanta, after losing so many galleries during the economic downturn, has made a huge artistic comeback. The Atlanta Beltline and its art-based projects, have been instrumental. I'm hoping that Brickworks Gallery will help contribute to the Atlanta arts scene, and perhaps spur other art venues to open. I would love to one day see an "arts district" on the Beltline, perhaps on the Eastside Trail where we are located.
But, I think we have a ways to go. The rise of New Orleans as an artistic capital of the South has been wonderful to see. However, it pains me that this renaissance wasn't centered in Atlanta. Our city is the economic capital of the South. It should be the cultural and artistic capital of the South. I'm not sure it is right now, but it should be. The Ogden Museum, which is a beautiful gem of a museum dedicated to showcasing Southern art and culture, is located in New Orleans. I feel that museum should have happened here in Atlanta. Maybe one day it will.
Brickworks Gallery
686-A Greenwood Ave NE
Atlanta, GA  30306
email:  Laura@BrickworksGallery.com
phone:  404-873-3330
---
Nancy is the Publisher and Founding Editor of South x Southeast photomagazine. She is also the Director of South x Southeast Workshops, and Director of South x Southeast Photogallery. She resides on her farm in Georgia with 4 hounds where she shoots only pictures.
All author posts