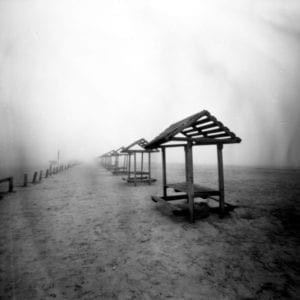 Valerie Burke: Please give me some background on your being led to photography as a medium for expression.
 Becky Ramotowski: It all began with a road trip to California with my aunt and uncle before I started first grade. My aunt had a Kodak TLR camera that she carefully held while composing photos of our trip to Disneyland and up along the west coast to Seattle for the 1962 World's Fair. (Yeah, it was that long ago.) She guided me in making my own snapshots with an Imperial Mark XII that my parents bought for me to take along on the trip. My aunt's words of encouragement were to be still and to hold the camera level.
I'm still working on the holding the camera level part.
Later, when I was in high school I used to assist my mom with her newspaper work. I would goop her Polaroids. After I moved away from home, I free-lanced for newspapers. There really hasn't been a time in my life that I don't remember a camera or photography being a part of it.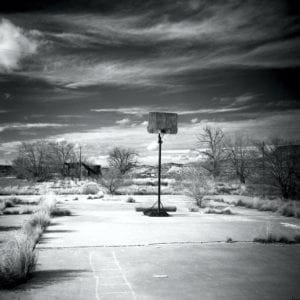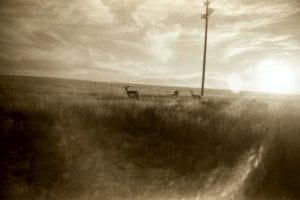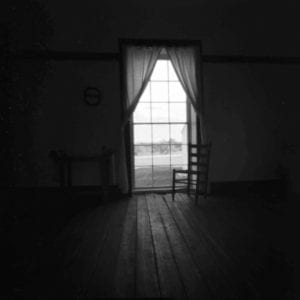 VB:  Your images for the exhibit: Just Passing Through all have an "alien"quality to them. It seems an important part of the American Landscape is gone. Would you tell me what drew you to this particular viewpoint?
 BR: The "alien" viewpoint as you call it, has always been how I see things-not for what they are or what is physically there, but for what is missing. Everyone reacts to things in different ways and I like the idea of certain places being portals to take you back to another time and place. That probably sounds like a bit of a cliché but when my ears ring and my skin tingles, I know there is something else going on. It's compelling and multi-leveled as far as sensory input goes.
VB:  Compositionally, it seems that you are frequently looking through a frame at the scene: whether a particular type of lens, a rainy car window, the frame of what used to be a church with a cross on top, a fogged in beach etc. How much does the role of the mechanics of photography play in your shooting?
BR: Everything and nothing. Some ideas just come to me and then I look for them. Other times, things just appear before me. I do think you need to be open to what is in front of you all the time no matter what.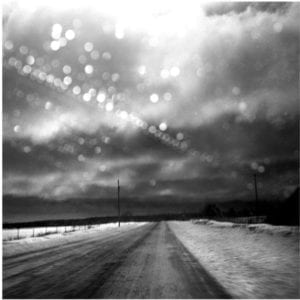 VB: What is the process of a typical shoot like for you?
BR:  It's haphazard at best. The most planning I do is to make sure I have an assortment of cameras loaded and ready to go. I don't like to see something and not be ready for it. The cameras I most like to use are pinhole, Holga and Diana wannabes. Lately I've been smitten with expired disposable cameras. Oh, and an Ansco Pix panorama that I modified. But really I have no mode of operation except to be outside and to enjoy the day.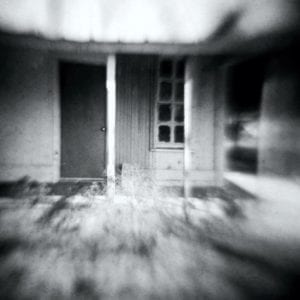 VB:  Becky, I really like your way of operating; free wheeling, open to what comes your way and just enjoying the process. I also enjoy your intuitive manner of seeing something important to you, for whatever reason, and jumping on it. What photographers have influenced you?
BR: Oh gosh, subconsciously every photo I've ever looked at has probably influenced me in some way, but I like the work of Stephen Shore, Mary Ellen Mark and Mikael Olsson.
VB: There are particular images, which I find powerful. Would you elaborate on the circumstances behind capturing these images (equipment if you like) I know you take road trips to find what resonates with you.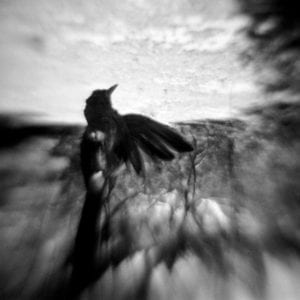 BR: I'll start with the bird first because it was staged in my yard. I have an old Diana wannabe camera that I took apart and modified so it would vignette and focus oddly. It took 2 rolls of film and 2 afternoons to get a shot I was happy with.
Valerie: The Stone building behind a fence of trees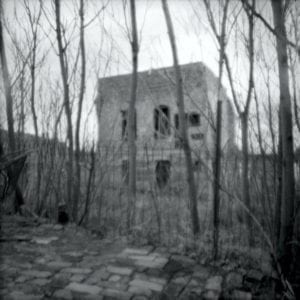 BR: The old stone building was a great find. I want to buy it and move it brick by brick to my yard. It has mystery and intrigue, which is always a big attraction. I think you could walk into it and come back out as someone else….
VB: The Indian Dream Catcher (broken dreams)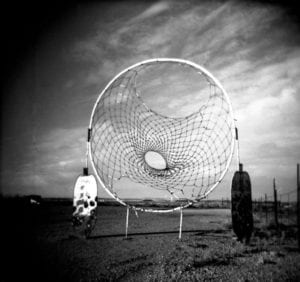 BR: The Dream Catcher is indeed broken and sits beside Interstate 40 in Arizona. I don't think of it as representing broken dreams but instead encourages bigger dreams and to keep dreaming.
VB: The Church (could be an outdoor movie theater)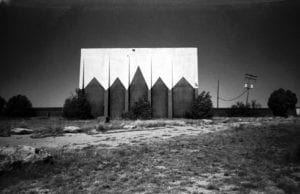 BR: The Church is an old drive in theater. Cliché or not, I can't pass one up. I know a lot of people photograph them and I think we do that because they represent a happy place of our youth.
VB: What image from this series of yours would you say taught you an important lesson?
BR:They all did. They taught me that no matter how many times you shoot the same subject, light rules the shot: you just have to catch it.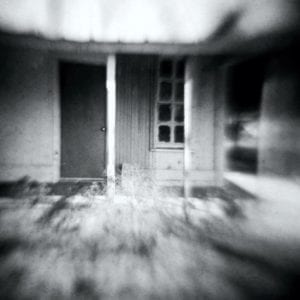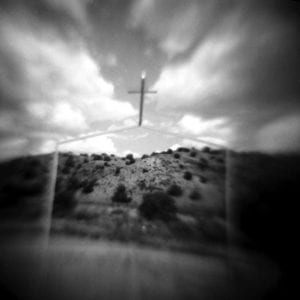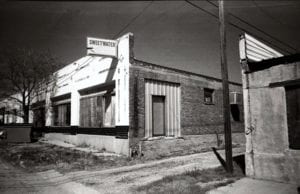 VB: What plans do you have for the future photographically.
BR:  This summer I'm going to make my truck camper into a camera obscura.
VB: That sounds adventuresome, Becky, as are all the many avenues you pursue in photography.
Bio:
Becky Ramotowski is a fine art photographer from Kansas that was raised in Texas and currently lives in New Mexico with her husband Shane, numerous telescopes, and a collection of marbles rescued from discarded spray paint cans.
Her work has been featured in Black and White, Kamera, and Build, Sky, and Telescope, and Nightsky magazines.
She has won various awards including Best of Show for her pinhole work at Rayko Gallery in San Francisco and has shown her work around the world. Currently, Becky is in these shows:
The Curated Fridge, Revela T and Photo Patagonia
email: astrobeck@gmail.com
---
Valerie Burke is a fine art photographer and educator. She lives in Fort Collins, Colorado with two cats and many pinhole cameras.
Valerie's photography has been exhibited at the Illinois State Museum, Chicago, Illinois, The Lofoten International Art Center, Svolvaer, Norway; The Chicago Cultural Center, Klein Art Works, Chicago, Illinois, The Midwest Photographer's Project, the Museum of Contemporary Photography, Chicago, Illinois; the Sixth Annual New York Digital Salon, The Visual Arts Museum, New York City. The Center for Fine Art Photography, Fort Collins, Colorado. The History Museum of New Mexico, The Poetics of Light Pinhole Photography. A.Smith Gallery Pinhole, Johnson City, Texas; a collective exhibit for Shootapalooza during Houston's 2016 Biennial FotoFest among others.
Valerie's work has been published in several editions of The Pinhole Journal as well as Leonardo magazine. The Chicago Tribune and Time Out have reviewed her work. She has written for the New Art Examiner and Film News. Valerie has also served as a juror for the Chicago International Film Festival and numerous photography exhibits.
All author posts