Luminescence #24
Words….
Slivers of Luminescence wishes to reveal the light that comes from Big Momma, MS Nickki, Leo Bud Welch, Stuart Cole, Ralph Bankston, Mary Carr Leatherman, Pat Thomas, Tony Rabalao, Danuel Gales and Bill Beckwith.
Musicians, poets, painters, singers, sculptors or quilters, these bright souls bring beauty to our lives.
Slivers of Luminescence wants to show this beauty and unveil the intimacy of these great spirits, opening some of their secrets, touching their skin, their essence and seeing beyond what one can just See. Being in unison with each of these persons and joining their spiritual music, like a kindred soul.
Slivers of Luminescence are the threads of what will make From the Soul, third part of my three-piece work, including already Reflective Shades and Unbroken.
(See beatricechauvin.com my site)
It all started when I was a little girl living in Maryland with my parents. My father, Noël Chauvin, a French officer, had been sent on a mission on Aberdeen Proving Ground. During these years, I was in total harmony with the landscape, the musical American language and the Blues and Rock'n' Roll tunes my young parents were dancing to.
These years molded me. Since then, I have been pulling a thread that pushed me to Memphis and to the Mississippi Delta in 2009. There, my inspiration sprang out while driving on gravel roads, dancing in juke joints or walking along the cotton fields. And specially, when meeting MS Nickki, Danuel and Pat, who were to become my best friends, like Bill Beckwith, Ralph Bankston, Tony Rabalao and Stuart Cole.
Since 2009, I come back once or twice a year and while I'm on the Blues Land I let things come to me and leave their magical touch. I am pulling my thread day after day, adding to it some shinning wonders, working on new projects and letting my inspiration grow like a swamp cypress.
In between my trips, I write articles for a French Blues Magazine, I work with the Cahors Blues Festival, and I prepare my photographic projects/installations. I always put together my images with cotton fabric and/or stitch Blues names on cotton linen like The Fabric of The Blues. Cotton fabric is essential in my work; it is a main link, a big root leading me to the story of the South.
This work forms a whole that brings a very special feeling into my life. An emotion made of pure friendship, music and beauty.—Bea Chauvin
Luminescence 1, legend: Big Momma is Ms Nickki's grandma. Big Momma (Lucy Hubbard) used to make wonderful quilts. When we visited her in Holly Springs Mississippi, she took out of her closets her treasures. It was a wonderful moment.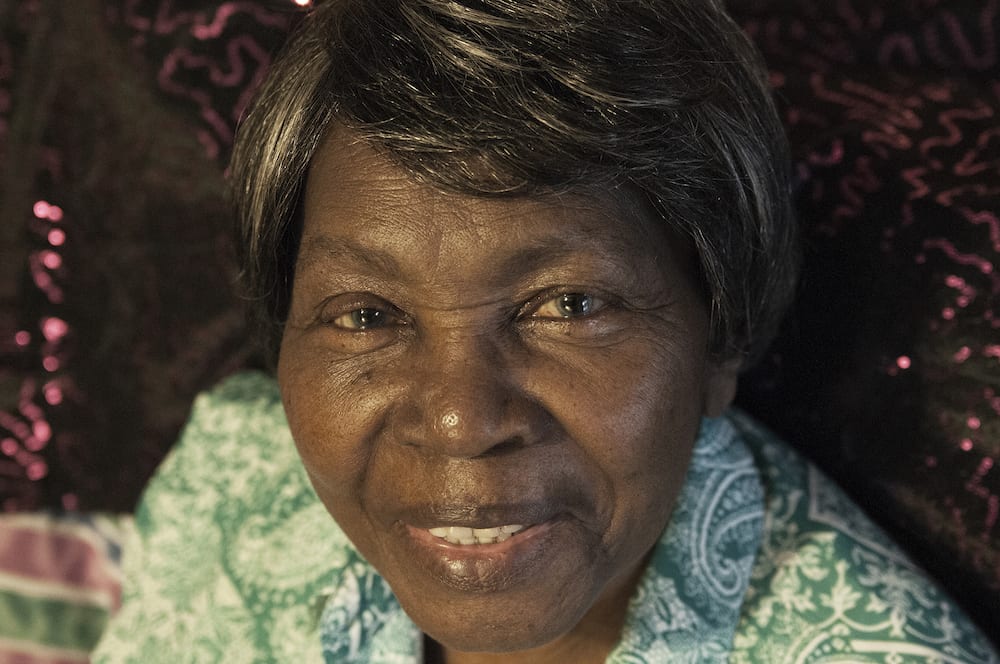 Luminescence 2, legend: The Art of Big Momma ( Lucy Hubbard). When I spoke with Big Momma about making quilts she said that showing her work was very important for her. I'm so glad I can share this gorgeous piece of Art.
Luminescence 3, legend: the Mississippi Delta Light, Thursday morning in Indianola — from my bedroom skylight, at my friend Trish's.
Luminescence 4, legend: Leo Bud Welch, Bluesman, Bruce, Mississippi. I met Leo thanks to my friend Stu Cole, who was playing bass on Leo's album I Don't Prefer No Blues. 
When he is on stage, Leo brings back all the essence of the Mississippi Blues. The way he picks the strings and sings is unique.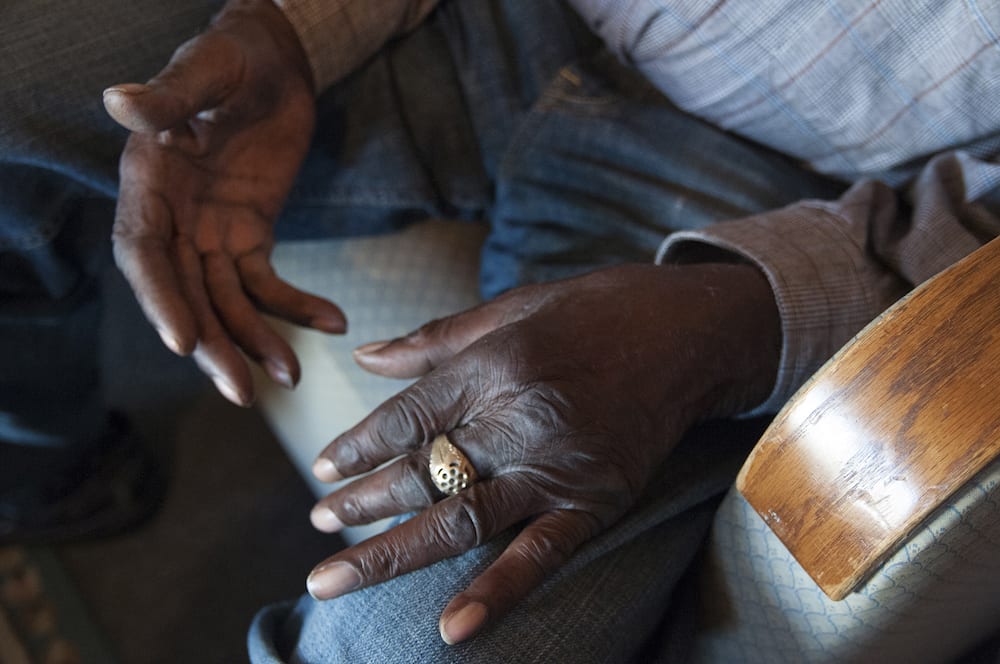 Luminescence #5, legend: On that day of October, Leo started playing two  songs and all of a sudden, the Blues filled his cosy one-room  house, with something floating between poetry, beauty, deep roots, authenticity — something very human and so moving.

Luminescence 6, legend: There is such an amazing world on the windshield of an old car, sleeping under trees, in Taylor Mississippi.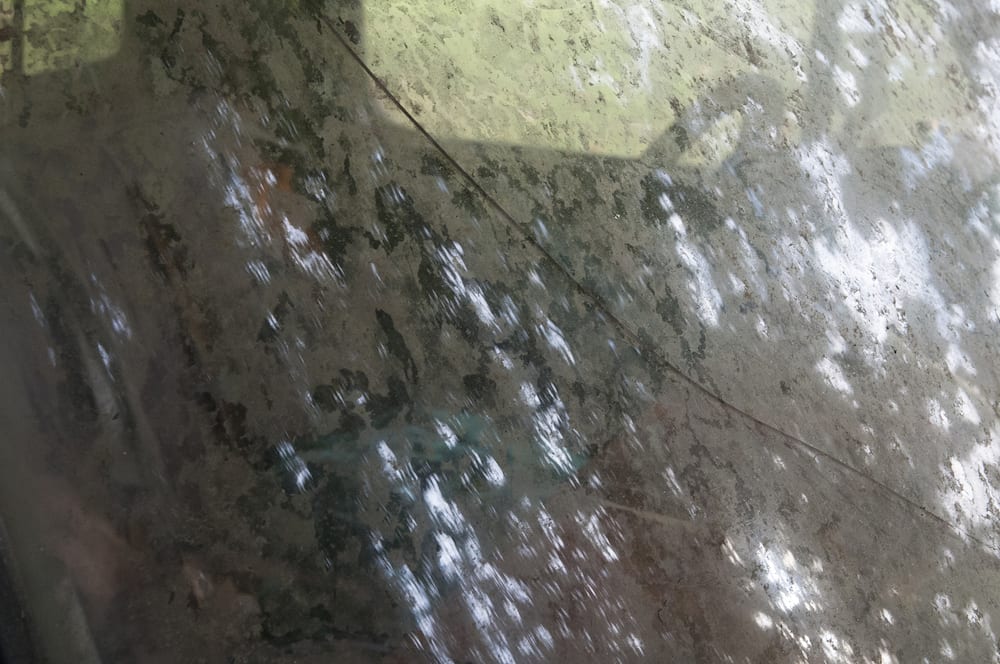 Luminscence 7, legend: Mary Leatherman Carr, was born and raised on Leatherman Plantation, near Robinsonville, MS, where Robert Johnson used to work in the 1920s. Mary can tell great stories about life on the plantation and how harmonious was the relationship between black and white people.
Mary writes poems and paint beautiful art. When I met her in Memphis, she had just lost her husband in a tragic accident.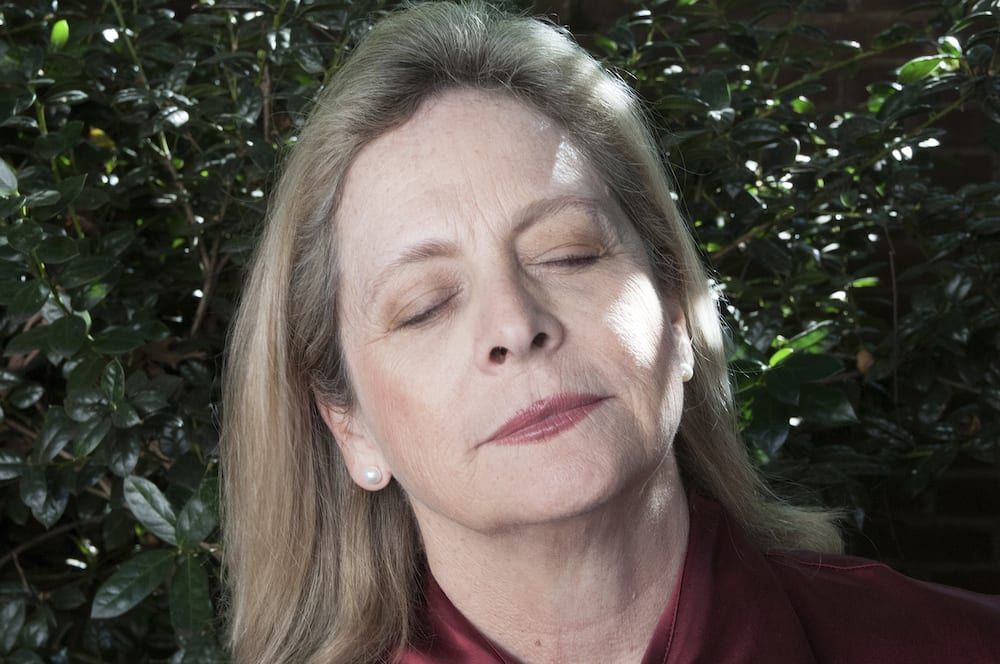 Luminescence 8, legend: The secrets and mysteries of the Delta, are nested in Trish Berry's beautiful garden. Indianola, Mississippi. 
Luminescence 9, legend: Pat Thomas, Bluesman, son of James Son Thomas.
Pat says: "The Blues was part of my father's life, how you get the blues, well it's like my dad said, you' re broke, you got the blues, you're hungry you got the blues, you got a good ".woman she quits you, you got the bad blues; you can have the happy blues, you can have the mad blues, there' s a lot of way you can get the blues".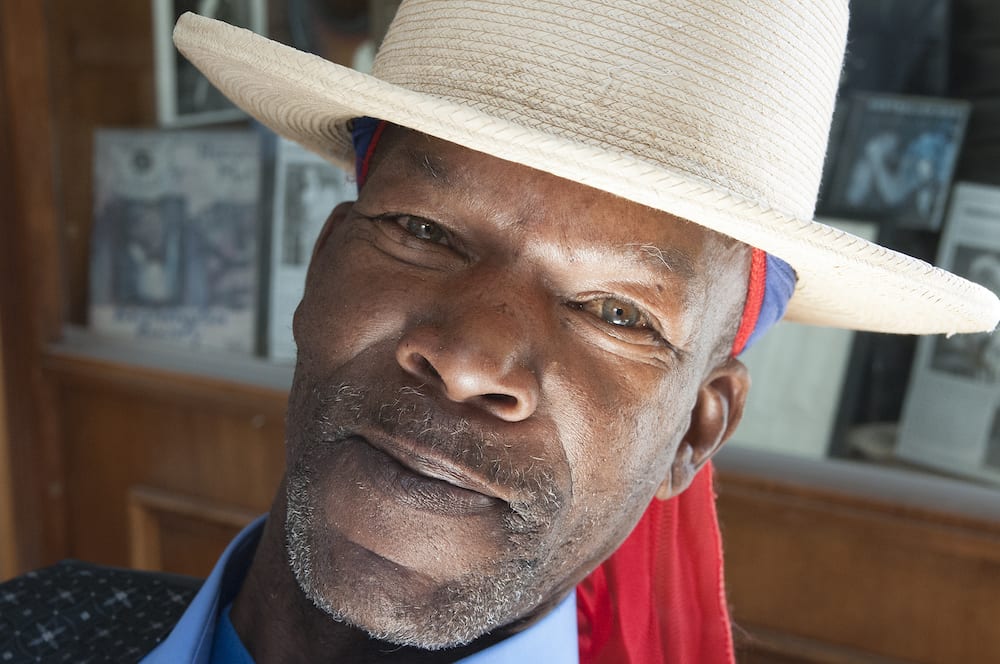 Luminescence 10, legend: Pat's hands after having made clays. Pat is  carrying on his father's tradition  as a blues artist and also as a sculptor.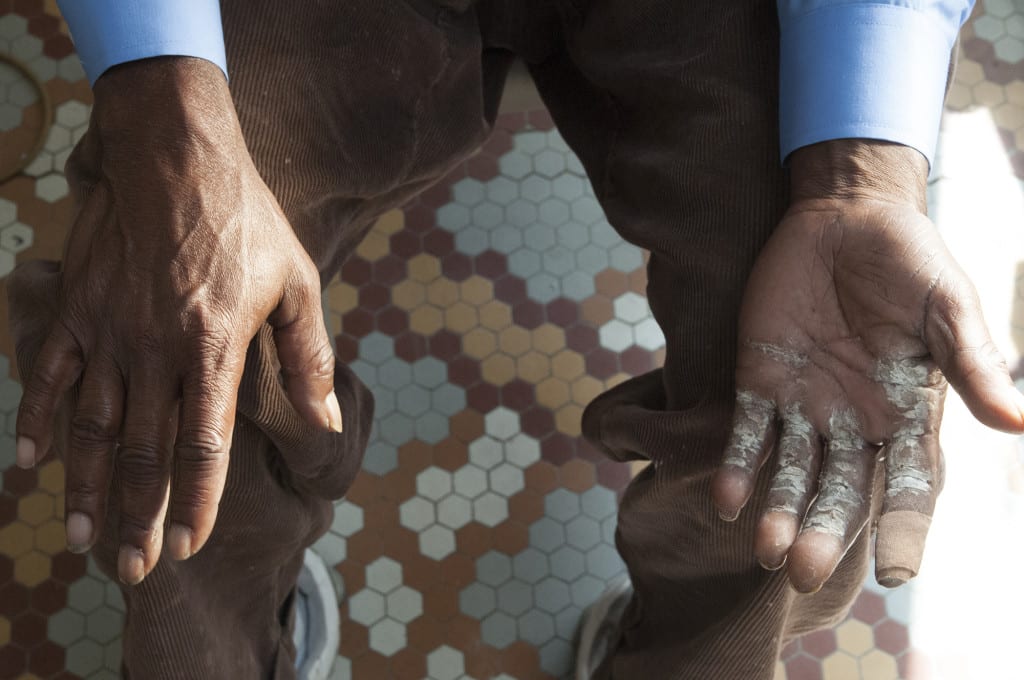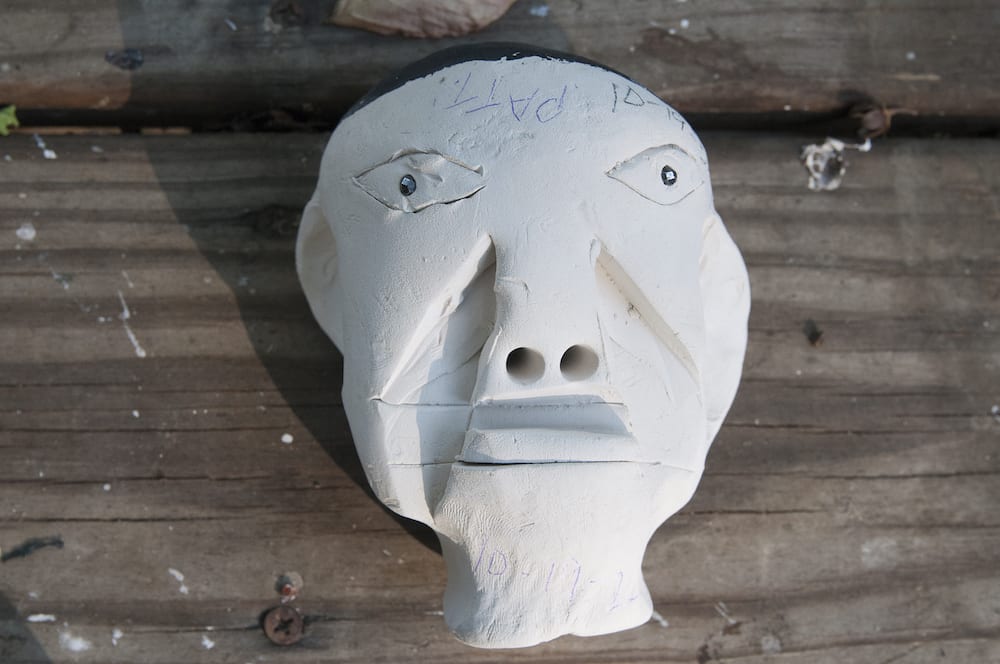 Luminescence 11, legend: I called this piece of art Morning Light In Taylor. It was made by Stu Cole, musician and artist. Stu sees beauty everywhere and turns simple objects into art. Besides being an artist, Stu is a carpenter and can build a house. From the ground to the stars. 
Luminescence 12, legend: Ms Nickki, Memphis, TN (her grandmother is Lucy Hubbard, Luminescence 1)
The "Mississippi girl" was born and raised in Holly Springs, MS. She has been living  in Memphis now for twenty two years. She sings the Blues in many different venues and all over the world, including in Cahors, Nantes, Paris, Disney, Ireland etc…. When she sings Wang Dang Doodle by Koko Taylor,  or Walking the Dog by Rufus Thomas, you jump on your feet to dance. When she sings I'd Rather Go Blind by Etta James, your heart moves to tears. Through her Talent , her Beautiful Soul and her Extraordinary voice, Ms Nickki symbolizes and expresses the beauty of life and of human feelings.
 
Luminescence 13, legend: Splendor I. At Bill Beckwith's Art Studio, Taylor, Mississippi.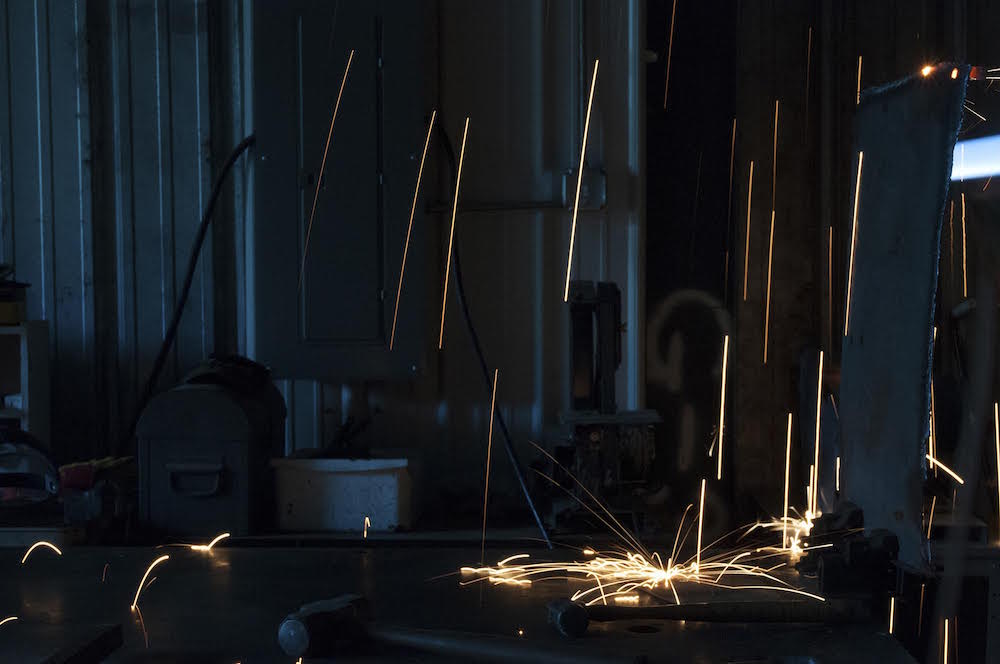 14/: Luminescence 14, legend: Danuel Gales, Bluesman, Memphis, TN. 
"My first memory of music was when I was three years old, my dad and mother bought us a guitar for Christmas. Of course it was a toy guitar made of plastic. We started strumming on it, and strumming on it, and strumming on it, and my twin, obviously, by the time we turned four, he was playing very good on the plastic guitar.
As we grew older, my dad, kind of let us listen to country music, a little bit on the radio, when we were riding in the truck or whatever and my mom listened to Gospel, always Gospel music.
But the early story I have, of an attraction to music was seeing my grand mother, the late Fanny McGarrett. We used to go to Saint Louis Missouri, where they lived. They had a church in the basement and every 

Saturday

 night it was like a club. But it was a church, they had 

Sunday

 morning services. Every 

Saturday

 night my grand mother would be playing the guitar and strumming on it and singing. I came also to music listening to my four brothers: Eugene, Samuel, Manuel and Eric. Manuel — Little Jimmy King— passed away ten years ago from a heart attack. Being an identical twin, anytime I look at myself in the mirror, I see my twin."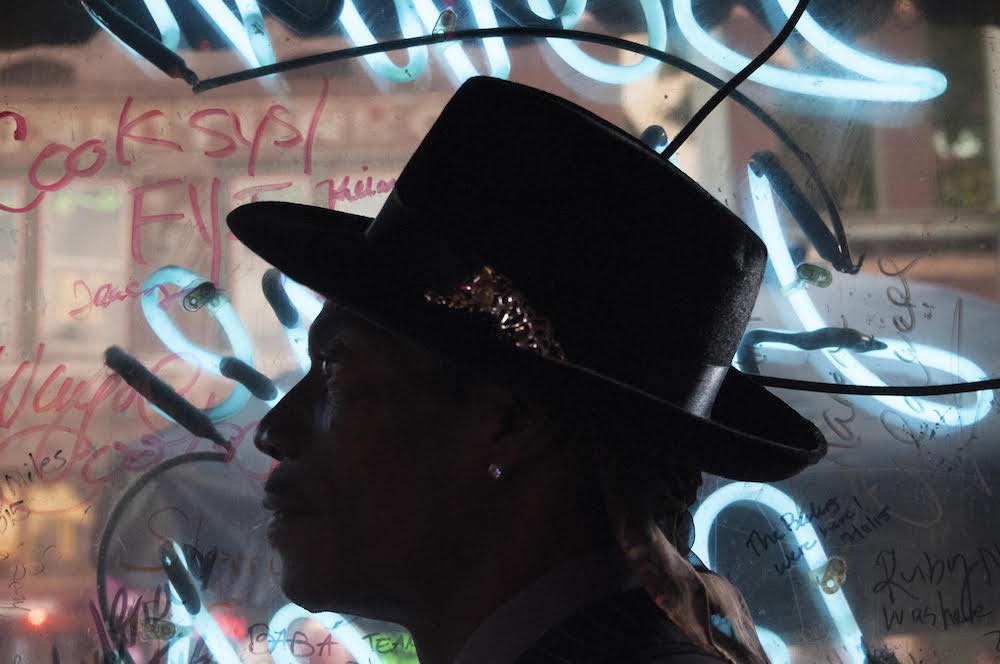 Luminescence 15, legend: Splendor II. At Bill Beckwith 's Art Studio, in Taylor. Bill is a great sculptor, with a rebellious, kindest heart and a highly creative spirit.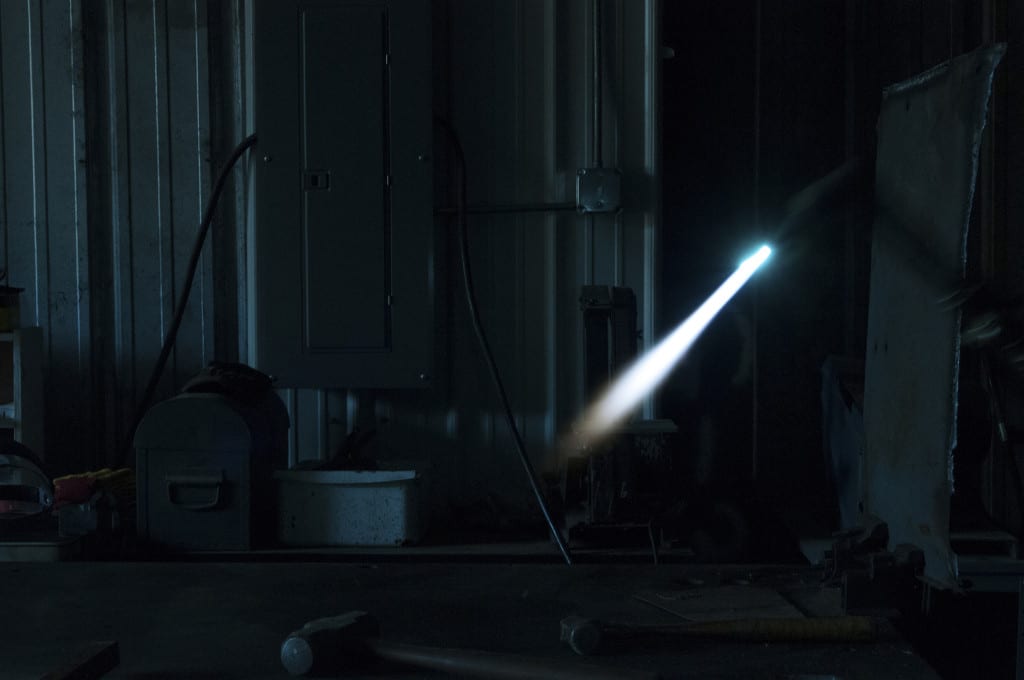 Luminescence 16, legend: Ralph Bankston, Bluesman, Memphis. 
"I was born in Memphis October 22nd, 1948, a long time ago, and raised all over, the world. When I was a little kid my uncles, cousins, grand parents, parents would asked me "Sing that song Ralph, sing that song." So I would sing and tap dance at the same time. All my life is music, it's all I do, make music. If I can't do it, I would be miserable. I love music that's my thing. Music is life and life is music."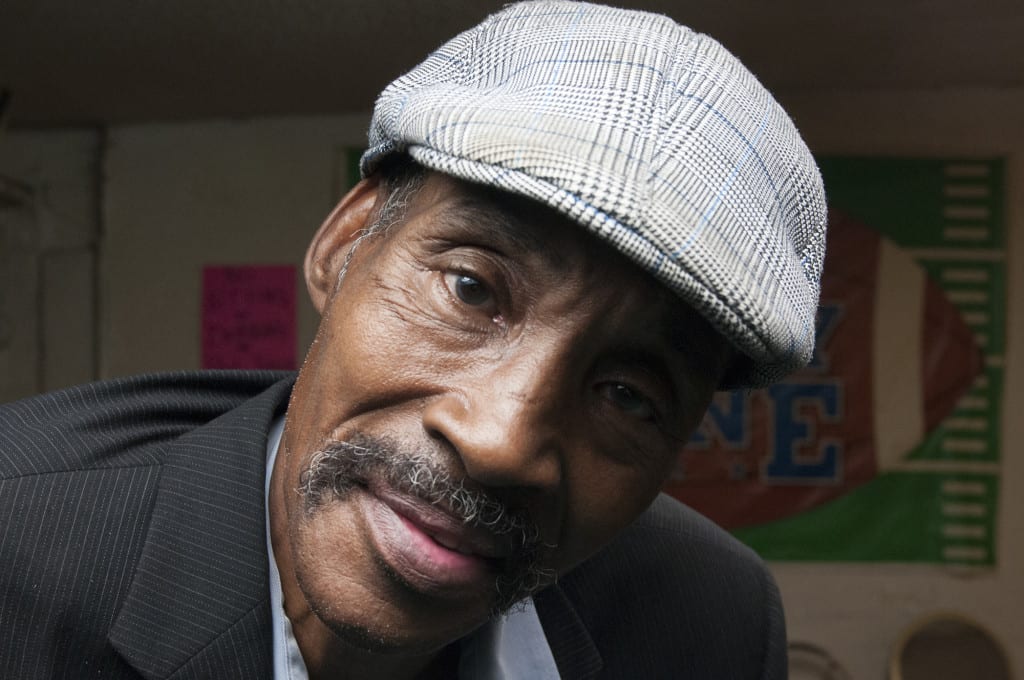 Luminescence 17, legend: Ralph Bankston's hands, playing on the table at Lucille's .
IF FOR YOU, poem by Ralph Bankston
If For you,
Life is a bundle of joy
And stumbling blocks
Are stepping-stones
If For you,
Luck is in your favour
And all your rights
Are never wrong
If you could awake each day
And feel simply divine
Or face anybody and say
That's a friend of mine
And all your worries cease to be,
Then,
Would you trade one night dream with me?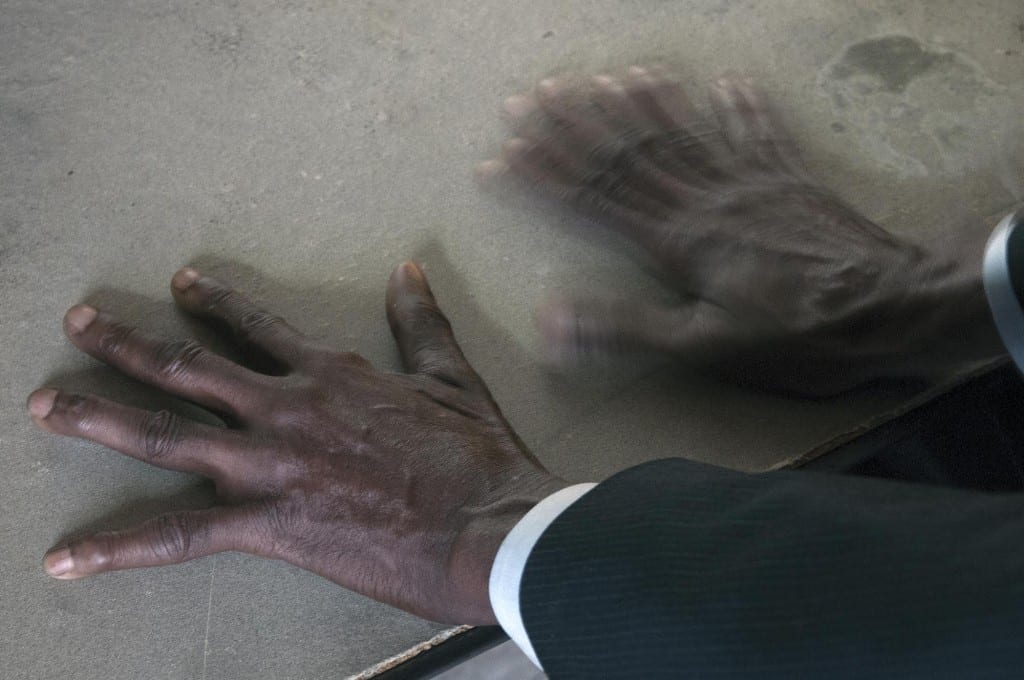 Luminescence 18, legend: Dockery Farms, located in the Mississippi Delta, is one of the birthplaces of the Blues.
When I came to Dockery Farms for the first time, Bill Lester, the executive director in charge, told me the story of the « Frolicking House » which used to be sitting near the Sunflower River, down on the plantation and where, on Saturdays, black people used to go dancing, play music, gamble, drink and forget their hard week. I chose Alan Lomax' lines from The Land Where the Blues Began, page 363 «  The Slow Drag », to illustrate Luminescence 18, because this beautiful text expresses so well what it must have been at the "Frolicking House", like in many places in Mississippi, a long time ago. I want to mention as well the great, moving, wonderful film Give My Poor Heart Ease by William Ferris, where  we can see James Son Thomas playing the Blues with the Broom man. An other exceptional expression of the Blues at that time.
The Slow Drag
(…)
The Delta countryside was drenched in moonlight, edged in black by woods. From where we turned off on the rutted road, we could see the little shack far off, its windows shining orange from kerosene lamps, and from it came a deep, powerful rhythm, as if someone were beating a huge drum yonder in the moonlit cotton parch. No melody yet, only this heavy beat, growing stronger and stronger as we picked our way past barbed-wire gates, tires spinning in the sandy loam, and finally drove into the yard, into a shower of nervous chickens coming down from the chinaberry trees,  and could hear the bluesman's voice and the crying of guitar strings over the continuing beat.
Cars and buggies and a couple of mules ringed the yard. A knot of men clustered round a lamp-lit cooncan table. We edged through the crowd on the little front gallery and peered in and discovered the source of the mysterious drumbeat. The wooden floor of the shack was, so to speak, a drumhead, responding, first of all, to the double rhythm of the bluesman's feet as he stomped out an accompaniment to his playing. then at his side a youngster was pulling the broom, dragging the head of a broom over the rough boards in a diagram of the beat, causing the floor to vibrate like a rub-board and the massed straws of the broom to rattle and swish like the swats in a rhythm section. This rhythmic source was reinforced by the feet of the couples who packed the steamy room and were performing the blues, also called the slow drag, a name that well describes it.
The couples, glued together in a belly-to-belly, loin to loin embrace, approximated sexual intercourse as closely as their vertical posture, their clothing, and the crowd around them would allow. Slowly, with bent knees and with the whole shoe soles flat to the floor, they dragged their feet along its surface, emphasizing the off beat, so that the whole house vibrated like a drum. It was that sound we had heard a mile away in the moonlit night. (…)
—Alan Lomax, The Land Where the Blues Began.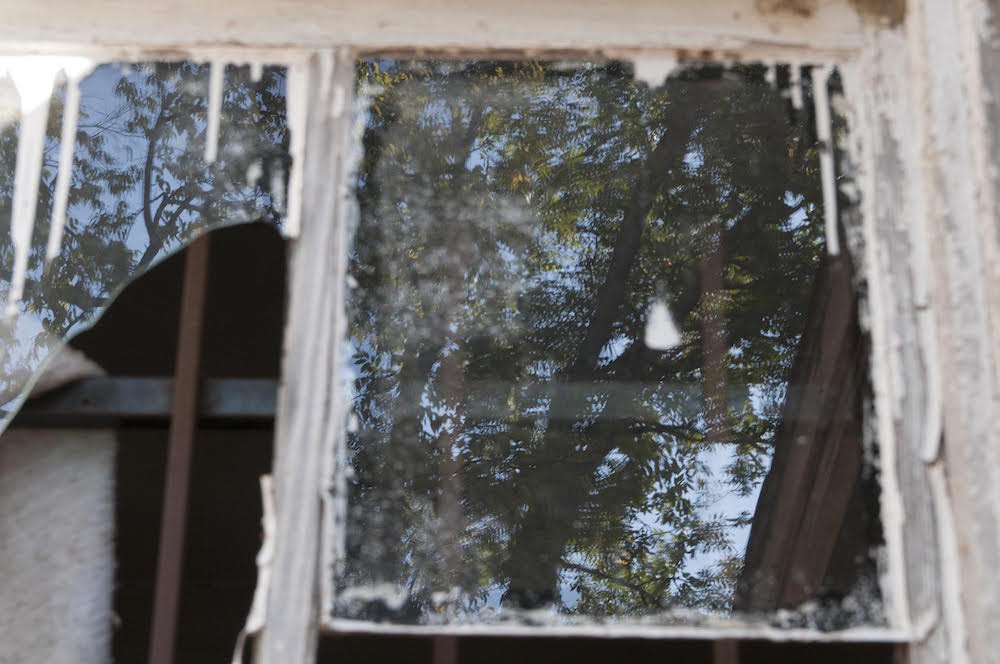 Luminescence 19, legend: Tony Rabalao also known as Leh-Lo, Toronto. Tony is a songwriter and a drummer.
" I'm the youngest of three kids, so my brother and sister being older, they went to school first, and I would stay home with my mother. During the day, in the mornings, she would always have the radio on, so I knew all the songs that were here on the radio, at that time. I was too young to maybe understand what their were saying, but I always could understand the sense of melody and rhythm which were the things that attracted me even in these days. Until now, that's what drives me to music. Also, I come from a very musical family. My father was into Jazz and and the best of popular music that was happening at that time, the Beatles, Santana, Miles Davis…My mother was into African music and Classical, my sister was more into R&B, Soul, and my brother was a rocker, so I got the best of all of it.
Living a life of music, is an emotional ride and music is the reflection of that emotional ride.  I'm always seeking the expression that will represent the emotion that I am  feeling. That's what music is to me, in my life."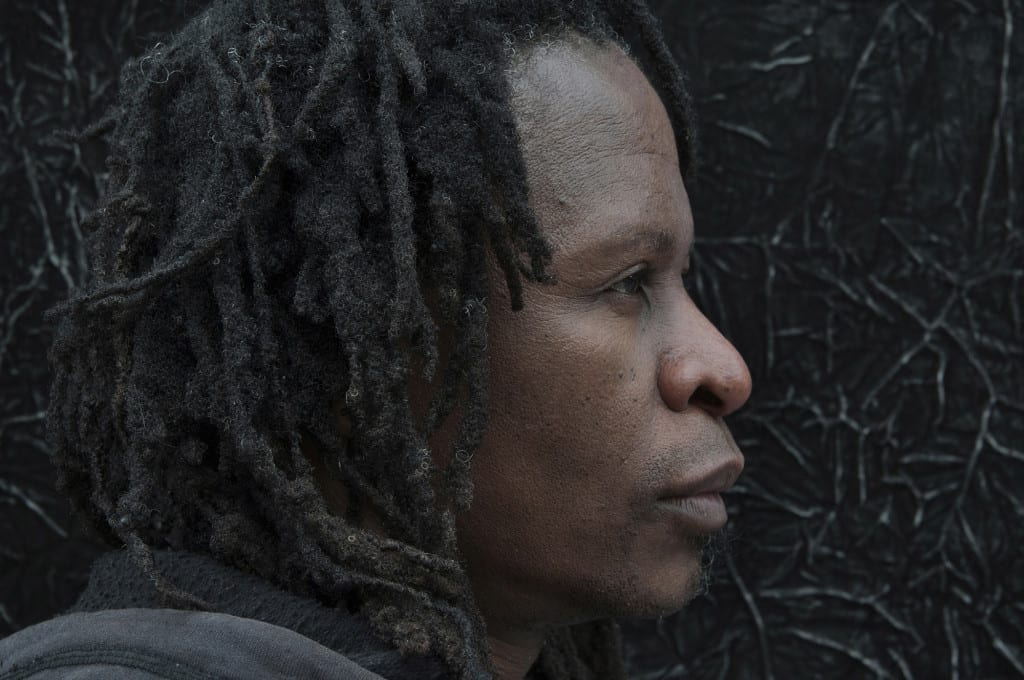 Luminescence 20, legend: Pure Beauty at Stu Cole's in Taylor, Mississippi and Lyrics by Leh-Lo.
Zigzag
Everybody's right and everybody's wrong
But I knew what I wanted all along
Make it plain so plain it shows, and you act like you don't know
And I know that you know, and I know you know that I know, that you know
 We'll speak like politicians and slide like skin on grease
And we'll try to keep our distance, but we only get six degrees
And if I move in a straight line and worlds collide
Then I'll just zigzag to the other side
Warm is the pain and cool is the shock
Safe is the way and smooth is the talk
Well some lose their way when the way gets blocked
And some of us know better
And I know that you know, and I know you know that I know, that you know
We'll change like the weather and then break like all things in time
You see 'cause nothing lasts forever and I try to keep that in mind
And if I move in a straight line  and worlds collide
Then I'll just zigzag to the other side
words by Leh-Lo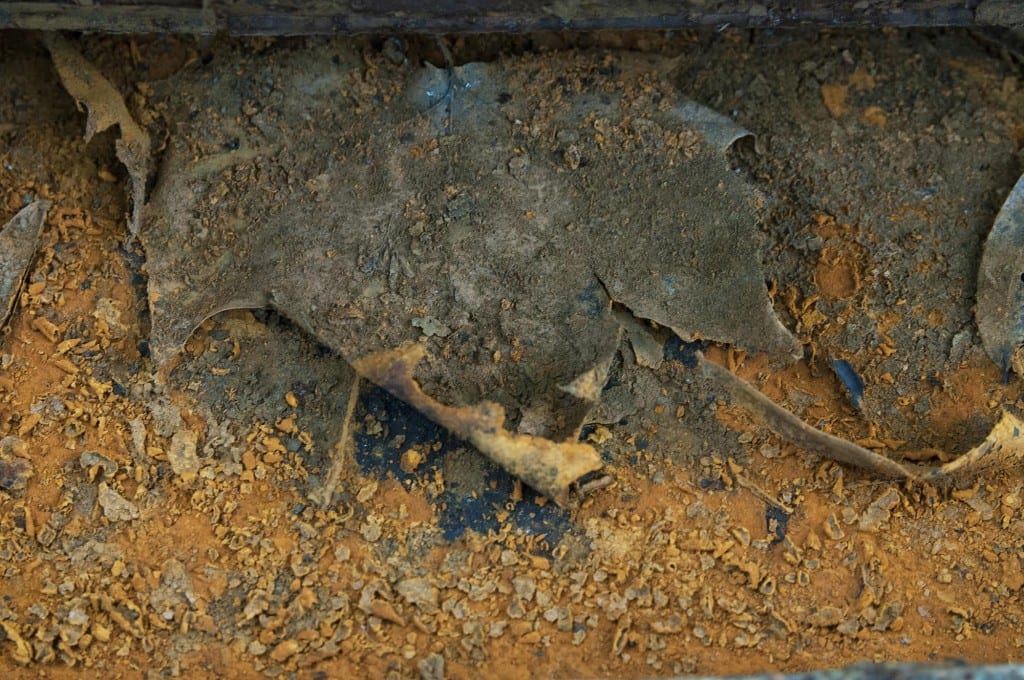 Luminescence 21, legend: Tony Rabalao ( Leh-Lo) drummer and songwriter,
"You don't perform or practise with an agenda, but you try to attain a certain level of where you can completely exist in the moment,  lose yourself in that moment and express what you feel, where nothing else really matters. Sometimes, you rarely would achieve this level, but sometimes you do, and sometimes you get close to it. The closer you get to it, the better your experience is. It's not something you can try to do, you just have to be open and prepared, that's what practise is. When you practise, it allows you to read yourself off physical limitations, and purely connect to some more spiritual energy; that's where all your creativity comes from. So, when I'm performing, that's what I'm trying to attain, that's the ultimate sort of goal. But having said that, you can still not reach it and still have an amazing experience. On the flip side, sometimes, it can also be a source of frustration, because maybe you tried too hard or maybe you just can't connect that day and then, the things that can bring you the most joy, can also be a source of great frustration, when it doesn't go the way that you think it should. You know, it's reflected in life, because life is that way too — to purely exist in the moment is not an easy thing to attain. But you have to practise, you have to keep doing, you have to keep trying to do it, and be aware; and then hopefully, you catch glimpses of it and maybe once or twice you got to really experience that and maintain it. It' s almost like being a monk, a Buddhist monk."
Tony Rabalao ( Leh-Lo)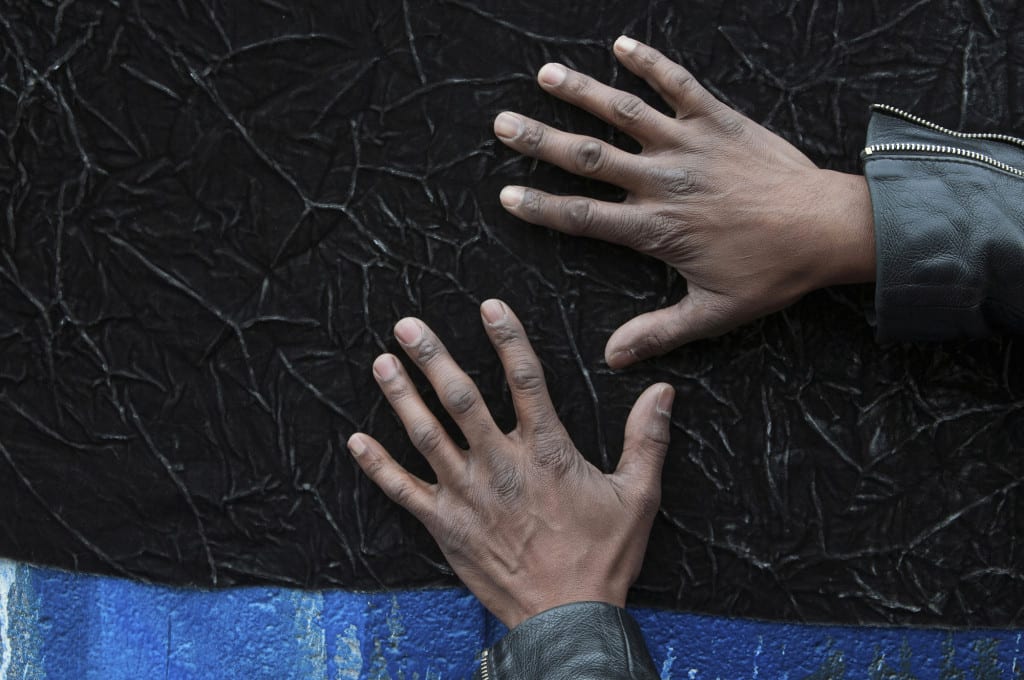 Luminescence 22, legend: Light at Taylor, Mississippi.
And poem by Mary Leatherman Carr
They Say
They say you have to be crazy to be an artist.
I say to be fully human, we all have to be crazy
And that it is only a matter of degrees
My employee of 25 years and great friend, Louise
Once told me that, you can love too hard
That's what I think artist do,
They love life so, it is filled with such awe, it hurts,
They don't see just see, just see a face,
They see eyes, a nose, a mouth, a chin, a forehead, hair, and much more,
They don't just see a sunrise or a sunset; they see the sky around it,
They see colors, they see shapes, textures of landscapes,
Surrounding the rising or setting sun.
Whether a writer or a painter, it is the loving through it that maybe is too hard.
That, though is what stimulates the senses — to look, to see and record,
Is not an easy thing to do,
Though for an artist it is not a choice, it's essential,
It is their way of trying to just capture, one fleeting dimension,
Of this beautiful life and temporary world in which we now live.
 Mary Leatherman Carr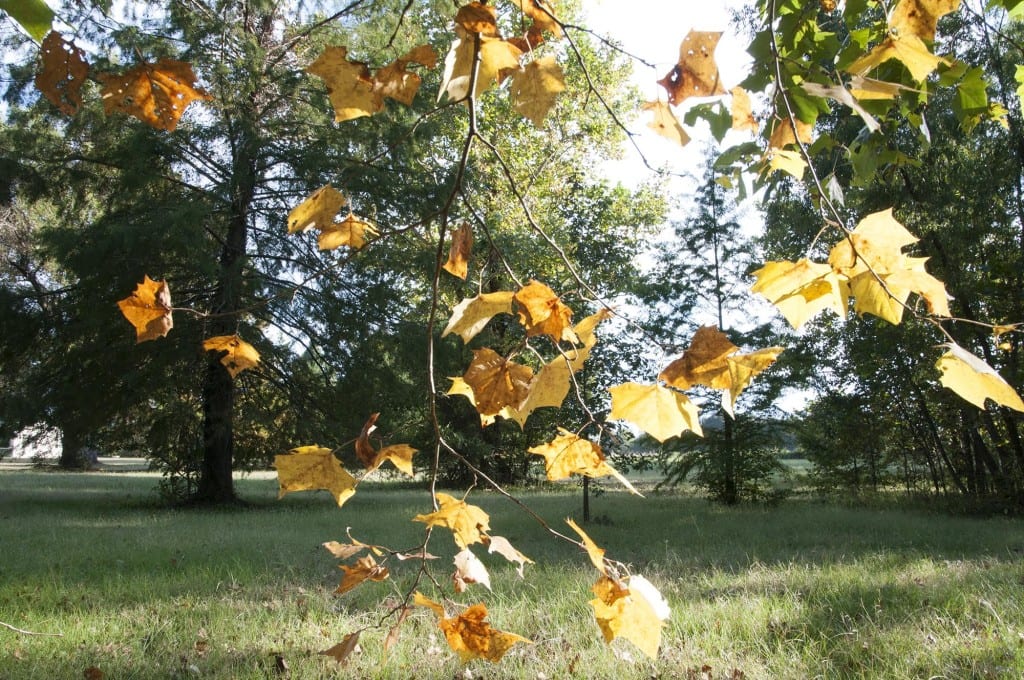 Luminescence 23, legend: Tony Rabalao, also know as Leh-Lo, drummer and songwriter, Toronto.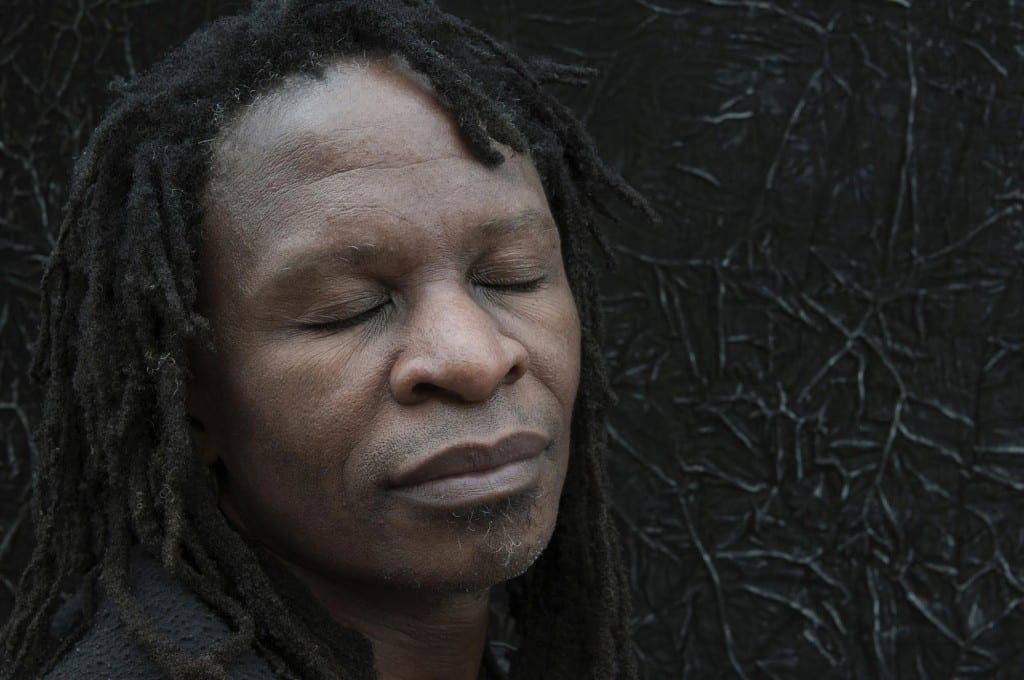 Luminescence 24, legend: Reflections in an old car in Taylor, Mississippi.
"To me the soul is the thing behind my brown eyes. I can't see it. You can cut my arm off, you can cut my leg off, you can cut me down into small pieces but at some point it is still there. I don't know what it is, but I know it' s the thing that allows me to perceive the world and to feel emotions.  Something drives this physical machine that I carry around, that's what the soul is".
Tony Rabalao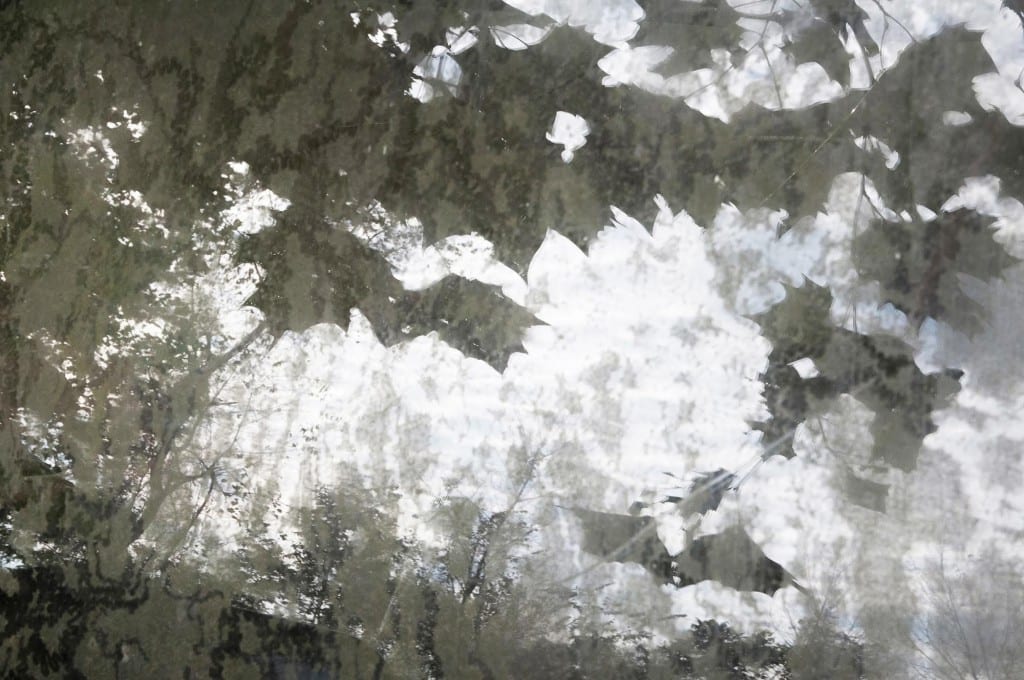 Today, I want to thank all my friends who took part into Slivers of Luminescence. As I wrote in the very first email, Slivers of Luminescence are the threads of what will be From 
The Soul, the ultimate part of my three piece work, coming after Reflective Shades and Unbroken.
Many thanks to Leo Bud Welch, Ms Nickki, Lucy Hubbard, Pat Thomas, Tony Rabalao, Danuel Gales, Bill Beckwith, Ralph Bankston, Mary Leatherman Carr and Stu Cole.
To end Slivers of Luminescence, I chose some lines taken from the exceptional book, Give My Poor Heart Ease by Bill Ferris.
(…)
I first encountered the Delta Blues in Leland. During the summer of 1968, I met James "Son Ford" Thomas, a gifted musician, storyteller and sculptor. We became friends, and our lives remained closely tied together for over twenty-six years until his death in 1993. (…) Thomas performed regularly in my classes at Jackson State University, Yale University, and the University of Mississippi. We also traveled together to the Smithsonian festival on the Mall and to the White House, where President Ronald Reagan's press secretary Larry Speakes—who was also from Leland— had Thomas open his daily press conference by singing a blues song.
 When I first entered the black community in Leland, I asked if there were any blues singers in the area and was quickly directed to the home of James Son Thomas. I found his home in the section of Leland known as "Black Dog" and asked his wife Christine if he was at home. She said there was no one named James Son Thomas living there and asked why I wanted him. When I explained that I was writing a book about the blues and wanted to include him in it, she admitted that she was his wife and told where I could find him. I understood and respected her suspicion of whites.
I soon found Thomas and began a friendship that deepened throughout the summer. I measured the depth of our friendship through the reactions of his children toward me. 
They were much more  direct than their parents in showing feelings of caution toward me as a white outsider. When I first entered their home, the Thomas children avoided me and spoke little in my presence. Once I had established a relationship with their father and spent many hours in their home, when I arrived, the children ran to the door, held my hands, and led me into the house, telling me jokes and stories they wanted me to record. They often held my hands while I spoke with their father about his work.
Their expression of affection through physical touch was characteristic  of all age groups in the black community. When I was introduced to Thomas's friend Shelby Brown, who was known as Poppa Jazz  because he had run a blues joint in Leland for over thirty years, we shook hands. Afterwards a friend of Shelby's asked me, "Do you know what you just shook?"
 "No.What?"
 "A handful of love."
You can find Leo Bud Welch albums, Sabougla Voices and I Don't Prefer No Blues on his site www.leobudwelch.com
You can listen to Leh-Lo 's album Zig Zag on ITunes.
For Danuel Gales, Ms Nickki and Ralph Bankston's music, please ask me.
---
Nancy is the Publisher and Founding Editor of South x Southeast photomagazine. She is also the Director of South x Southeast Workshops, and Director of South x Southeast Photogallery. She resides on her farm in Georgia with 4 hounds where she shoots only pictures.
All author posts