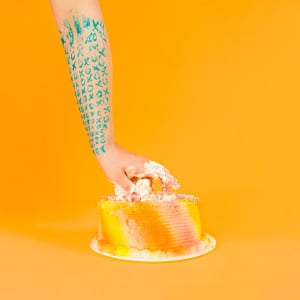 truly, madly is feeling wholeheartedly however shallow or deep. In this series of collaborative photographs by Kasumi Chow and Desiree Espada, the artists construct single colorful frames of common objects juxtaposed by portraits of young women teetering between anxiety and euphoria. The photographs are glazed with mild angst, impulse, and deliberately awkward situations. There is a vanitas-laden visual syntax at work. However, these contemporary still-lifes are more visually succinct in their delivery than their predecessors. A lopped off pony tail stands on its own upon a bright yellow backdrop, chola-style nails offer fistfuls of lifeless gelatinous gummy worms, a ring pop is cast off into a glass of champagne. These works are not about eternal preservation or nature morte, but rather about unapologetically living in the moment, where humor and sorrow intersect all in the same square.
—Desiree Espada and Kasumi Chow
Bio:
We are both artists living and working in Dallas, Texas. We met while attending the BFA program at The University of North Texas in Denton. Although we typically work separately, we come together every few years and collaborate on specialized projects giving us the opportunity to explore areas we don't touch on in our own personal work. truly, madly is a playful exploration of femininity, angst and euphoria.
Contact: