January 2013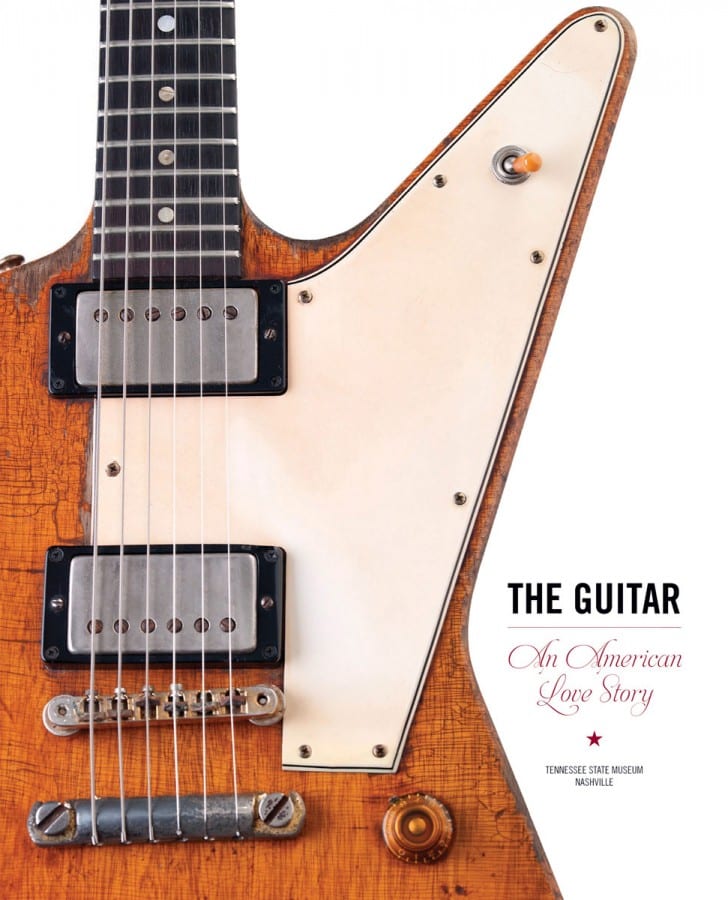 Gibson Explorer, 1958
An exhibition featuring a selection of some of the rarest guitars ever created — ranging from vintage models to celebrity-owned favorites — will open to the public at the State Museum on November 8. The free exhibition, entitled, The Guitar: An American Love Story, will showcase more than 150 world-class guitars gathered from both private and museum collections. This is the only time in which this remarkable, assembled collection will appear together in one gallery, available to the general public.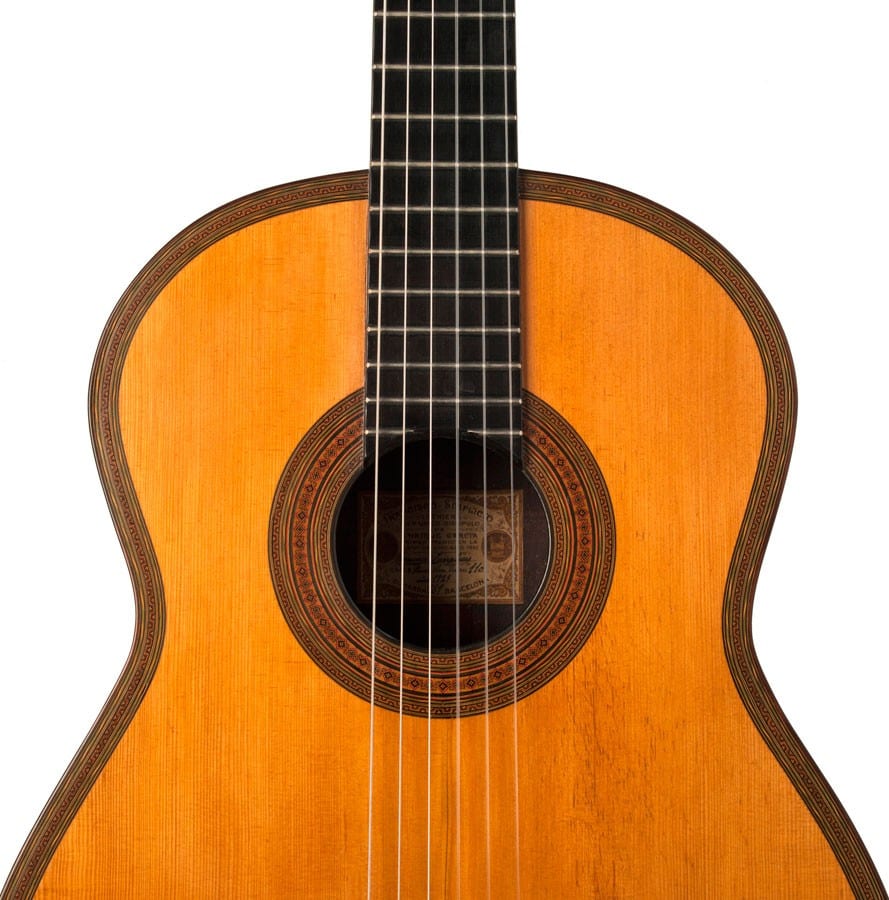 Francisco Simplicio, 1927
Highlights include:
• One of the King of Rock 'n' Roll Elvis Presley's personal guitars. Courtesy of Graceland, Memphis, TN.
• Standout guitars from Grammy-winning entertainer Vince Gill's private collection including his cherished 1942 Martin D-28.
• Three-time Rock and Roll Hall of Fame inductee Eric Clapton's 1958 Gibson Explorer, on loan from a private collection.
• A historically significant Lloyd Loar quartet featuring a mandola, mandocello, mandolin, and guitar. Matched set, circa 1924, on loan from a private collection.
• The 1953 Fender Telecaster played by famed Rolling Stone band guitarist Keith Richards, on loan from a private collection.
• Singer and actor Roy Roger's OM-45 Deluxe guitar made by C.F. Martin & Co., circa 1930, on loan from a private collection.
• Rickenbacker "Frying Pan" one of the very first solid body electric guitars.
• 1919 Martin 000-30 – likely the only one ever made, on loan from a private collection.
• c1900 guitar and mandolin made by Orville Gibson, the founder and namesake of Gibson Guitars, on loan from a private collection.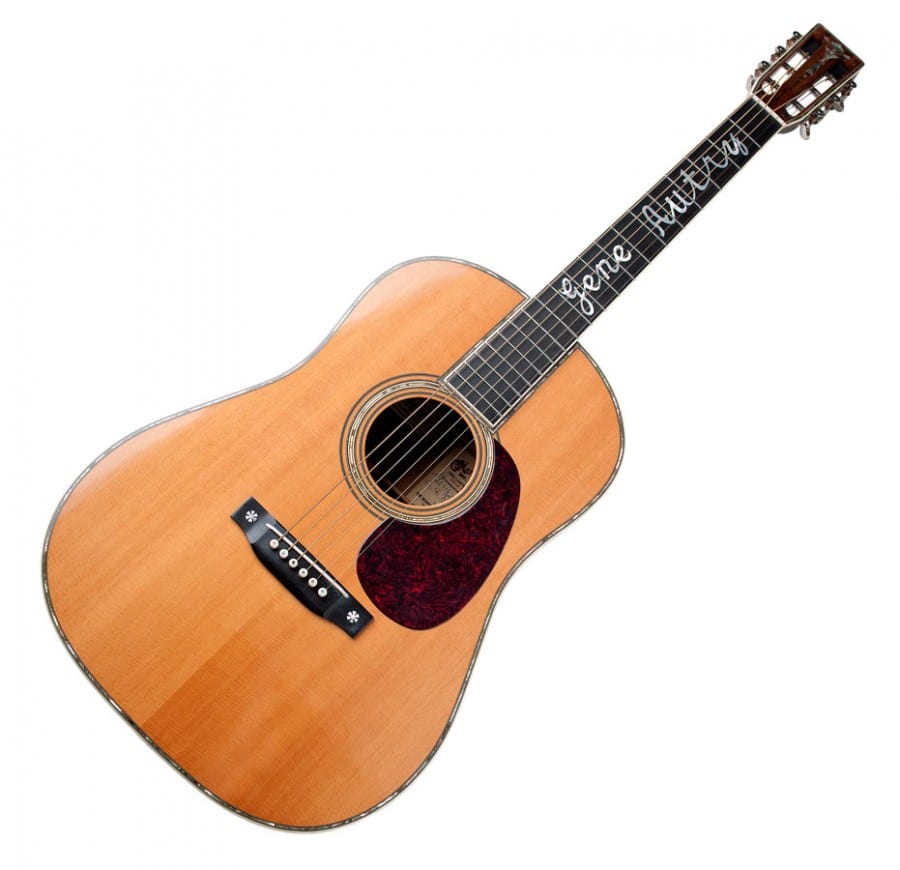 Martin D-45GA Gene Autrey Prototype, 1994
The Guitar: An American Love Story has been organized by the staff of the State Museum in collaboration with a group of area collectors which the museum's Executive Director Lois Riggins-Ezzell describes as a "dream team/brain trust" of guitar aficionados. They are: Walter Carter, Joe Glaser, George Gruhn, Jay Pilzer and Paul Polycarpou.
"These instruments represent some of the finest guitars made in America," explained Riggins-Ezzell. "Music is the common thread which connects the Great Smoky Mountains region of East Tennessee with Middle Tennessee's Music City and the fertile delta of the 'Mighty Mississippi River.' Stringed instruments are the continuous thread which have bound Tennesseans together for generations and established the Volunteer State as the original epicenter of popular music culture."
Guitarist and devoted collector Paul Polycarpou, now the CEO and editor of Nashville Arts magazine, said that he has been enamored with string instruments since he was a young boy growing up in London, England. "It would be hard to replicate this sort of exhibition anywhere else in the world," he pointed out. "This collaboration is uniquely Nashville."
"The beauty in guitars, these wonderful creations of wood and steel, lies in their ability to convey every nuance of the human spirit," said Jay Pilzer, avid guitar historian, songwriter and owner of New Hope Guitar Traders, who specializes primarily in instruments made by the Guild Company, leading to his being widely known as "The Guild Guy."
Walter Carter, songwriter, mandola player, and author of 10 books about the instrument and the companies who craft them, compared The Guitar: An American Love Story to "an epic adventure through our national culture from the instrument's European roots all the way to modernistic designs with branches in virtually every style of popular music."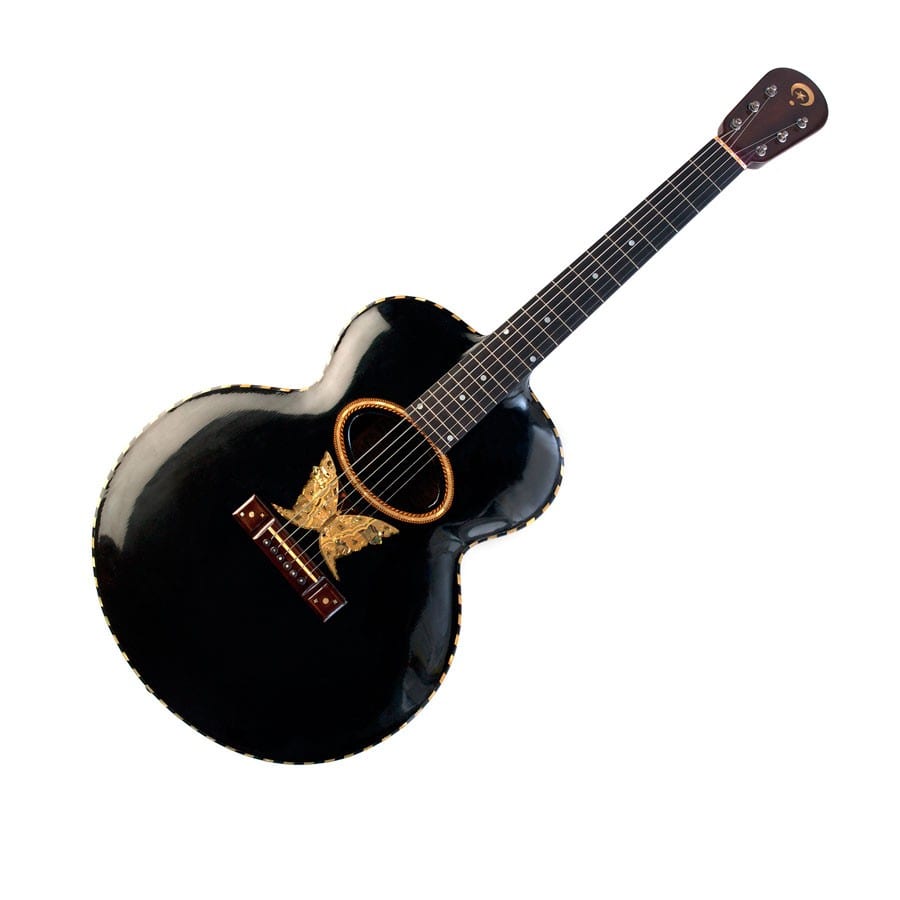 Orville Gibson, Circa 1900
"Many people love guitars but some have collected, quietly gathering eccentric, focused reflections of that love and obsession,'' explained Joe Glaser, owner of the legendary instrument repair service Glaser Instruments, who is consistently cited as the guitar technician to the stars. "After years of talking about taking advantage of our privileged access, opening the vaults and sharing these world-class examples to celebrate historic, iconic and obscure guitars, we have this once in a lifetime exhibit."
George Gruhn, owner of Nashville's world-famous vintage instrument store, Gruhn Guitars, noted, "A fine guitar is a superb piece of art which can be appreciated with multiple senses. You can touch it, feel it, play it…..but every guitar sounds different, depending upon the player. And,that is the magic of the guitar."
A 150-page companion catalog of the same title as the exhibition accompanies the show and will be on sale in the Museum Store. The exhibit also includes an orientation video and viewing stations where visitors can see and hear the soul and personality of the instruments in the hands of great musicians, past and present.
The Guitar: An American Love Story, presented by Gibson Guitar Co. with additional funding from City National Bank, C.F. Martin & Co., PLA Media and Cotten Music Center, will be on view through December 30, 2012. For more information, visit tnmuseum.org.
505 Deaderick Street, Nashville, TN 37243
(615) 741-2692
All photographs courtesy Jerry Atnip. © 2012
---
Jerry Atnip has a 38-year career as a commercial and fine art photographer. His images have been published in 40 countries, and since 2003, he's held over 75 exhibitions and been presented with over 90 awards. He is also a teacher, workshop director, curator, juror, frequent lecturer and serves on the boards of several Arts &
Photography organizations, including Atlanta Celebrates Photography festival and Slow Exposures Photofestival. His work has been collected by museums, corporate and private collectors and he is an Exhibiting Member of The National Arts Club in New York.
All author posts